How to Identify Scalping Opportunities
01/18/2013 9:00 am EST
Focus: FOREX
The EUR/GBP has advanced 276 pips to start 2013 trading. To find out if day trading opportunities remain present, you should identify short-term momentum on the 30-minute chart, writes Walker England of DailyFX.com.
When considering day trading a forex strategy, traders should first have the ability to identify the trend and market momentum. These skills can be developed through an understanding of price action and technical analysis on shorter-term time charts. Today we will review the ongoing EUR/GBP trend and see if there is an opportunity for scalping by identifying both market momentum and the trend.
Below we can see a four-hour chart of the EUR/GBP, with the pair advancing as much as 276 pips for the 2013 trading year. Currently price remains under its monthly high at .8324, but price has seen a series of higher highs and higher lows created for the better part of two weeks. These higher highs are indicative of an uptrend, giving traders an opportunity to buy the EUR/GBP, but we still need to identify if short-term momentum is set to continue. To see if this trend is viable for day trading opportunities we can now move into a 30-minute chart to better identify short-term market momentum.
EUR/GBP 4-Hour Trend (Created using FXCM's Marketscope 2.0 charts)
Click to Enlarge
EUR/GBP Building Blocks
Pictured below we can see our current downtrend in the GBP/NZD divided into building blocks on a 30-minute graph. Our first building block 1 is created by identifying last Wednesday the 9th. The pair quickly advanced from this point, moving as much as 192 pips higher. Since a higher high and a higher low were created, block 1 has been labeled in blue to indicate its strong bullish bias. Once the direction of block 1 is found, our analysis shifts to block 2 to find out if momentum is continuing in the same direction.
Block 2 analysis begins where block 1 concluded on Sunday the 13th. Taking another look at the graph below, we can see that block 2 depicts a continuation of our strong uptrend. Block 2 printed both a higher high and a higher low when compared to previous price action. With momentum continuing to the upside block 2 has been painted blue as well.
EUR/JPY Building Blocks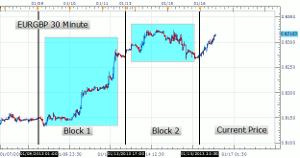 (Created using FXCM's Marketscope 2.0 charts)
Click to Enlarge
With price heading up in both building blocks, the EUR/GBP stands as one of the forex market's strongest trends. This will allow day traders and scalpers alike to continue to look for short-term trading opportunities with continued upside momentum. This analysis would only be invalidated on the creation of a lower low, potentially marking a temporary reversal in the trend.
By Walker England, Trading Instructor, DailyFX.com