Who's Winning the Currency Wars
05/13/2013 6:00 am EST
Focus: CURRENCIES
After ranging for weeks, the USD/JPY pair finally broke through the elusive 100 level, and Greg Harmon of Dragonfly Capital points out that these trends can last for a very long time and extend further than most people think.
Make no doubt about it. If you thought that the quantitative easing in the US was inflating asset prices and that our markets are benefiting from the combined efforts of the Treasury to weaken the dollar, especially against the euro, then you are missing the big picture. The performance chart below shows 10 of the world's major currencies over the past 200 trading days. Notice anything?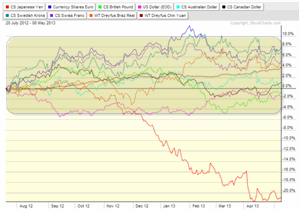 Click to Enlarge
There is only one currency, the Japanese yen that is out of the box. And it is not only out of the box but running 20% worse than any other currency over this period. And it does not look to be letting up at all. Clearly Kuroda and Abe are sitting around the IMF, G-7, and G-10 meetings, finger wagging and saying 'Who's Your Daddy' as everyone brings them another scotch.
Can it go on forever? No! But it can go on for more time than you can fight against it. So embrace it. What does a weak yen mean? Gold in yen will continue to outperform gold in other currencies. And the Japanese market will continue to rise. Click to Enlarge
Yes these charts may have ginormous relative strength index (RSI) readings and be extended from their simple moving averages (SMA) but this is Kuroda and Abe working. Remember who your Daddy is and continue to embrace these trends, and then when they are over, look for the next one.
By Greg Harmon of Dragonfly Capital