Currencies Rallying Against the Dollar
11/01/2013 9:00 am EST
Focus: CURRENCIES
The UD dollar index has broken below the 80 level, which should now be resistance, writes Cody Tafel of Minyanville.com.
The US Dollar Index tested the February lows, and is trying to turn higher, although I think the 80 level will now provide formidable resistance on the way back up. However, this level led to a relatively strong bounce earlier this year, and recent COT (Commitment of Traders) data shows speculators net short the US dollar for the first time since early this year. The rally from early February started around the same levels and similar COT readings, so maybe history rhymes and the US dollar will at least stabilize near term. The trend for now remains clearly down until proven otherwise, so I would not be too optimistic.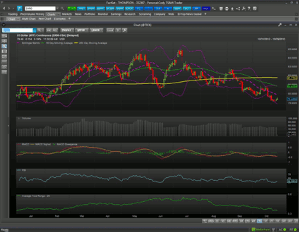 Click to Enlarge
The Japanese yen is forming a huge triangle pattern, and it is now coming to an apex sitting right on top of 200-day moving average support. It looks like the USD/JPY cross could rally back through 100 soon, and that could certainly be a bullish indicator for risk in general. It is interesting that the Nikkei (N225) is also forming a huge triangle pattern that should resolve to the upside as well. This could be the key currency cross to watch in the coming weeks and into year-end as a break through 100 might trigger another leg higher for the equity markets around the world. Click to Enlarge
The Canadian dollar is another currency that is relatively week and now looks to be trending lower again versus the US dollar. As you can see in the below chart, the CAD/USD cross touched the 200-day moving average resistance perfectly twice during the past month, and each time it has led to a deeper correction. The CAD/USD has broken below the early October lows, and clearly remains in a challenged position, even with the US dollar under pressure. I would continue to sell CAD/USD on rallies. Click to Enlarge
Positions in DX options, CAD & JPY futures
By Cody Tafel, Contributor, Minyanville.com