What's Ahead for the Eurodollar?
12/06/2013 9:00 am EST
Focus: FOREX
Anna Coulling of AnnaCoulling.com takes a technical look at the most widely traded pair out of all major currencies to try and decipher its future direction in the year ahead.
As we come to the end of another trading year, many forex traders will be wondering where the most heavily traded pair, namely the eurodollar will be heading in the future? A good question, so let's try to answer this now. And to give us a wider perspective it may be more useful to consider the weekly chart.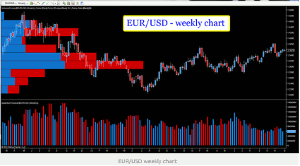 Click to Enlarge
Even a cursory glance at the weekly chart for the eurodollar reveals some striking information, not least the general decline in activity (in terms of volume) in this pair, which has been steadily sliding lower since the peaks of mid 2011. During this phase of price action the peaks and troughs are clearly defined, particularly on the ultra high volume bars, which failed to take the price higher, and kept the eurodollar within a relatively tight range. The trading range for 2013 has been clearly defined with the floor of support now firmly in place at 1.2800 and the ceiling also in around at 1.3750.
It is interesting to note that since the summer the recovery for the pair in this time frame has been associated with generally declining volume, suggesting a longer term lack of interest for the euro. In the last three weeks, this lack of interest has also been seen once again with narrowing price spreads coupled with average volume as we approach the 1.36 level once more.
Moving forward, and from a technical perspective, the current outlook remains one of further congestion between 1.34 and 1.38, and with the strong platform of support now in place as defined by the volume at price histogram (on the left of the chart), the pair may have some upside momentum left as we run into 2014, but any move beyond 1.38 seems unlikely in the short term.
By Anna Coulling, Professional Trader & Blogger, AnnaCoulling.com