How Reliable are ADP and ISM for Predicting Payrolls?
03/07/2014 6:00 am EST
Focus: CURRENCIES
With tensions between Ukraine and Russia easing a bit, investors have been able to turn their focus to today's non-farm payrolls report, notes Kathy Lien of BKForex.com.
After two months of sub-par payroll growth, the Federal Reserve desperately needs a strong month of job growth to justify continuing their current pace of tapering. Unfortunately, based on other labor market indicators released on Wednesday, there's a reasonable chance that job growth will fall short of expectations for the third month in a row. But the main question to ask is how reliable are the ADP and non-manufacturing ISM reports in predicting payrolls?
According to ADP, US companies added only 139k jobs in the month of February, down to a revised 127k. ADP has always struggled to match NFPs, and the fact that the number was revised down to 127k from an initial estimate of 175k in January, shows how unreliable the report can be. As shown in the chart below, over the past seven months, ADP overestimated private payrolls six times, but if you widen the sample to over the past year, it only overestimated it seven out of the past 12 months or 58% of the time. In other words, ADP can just as easily overstate as understate payroll growth but on average it misses the mark by 50k.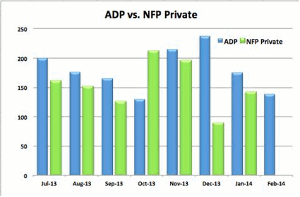 Click to Enlarge
Since the US is a service-based economy, traditionally the employment component of the non-manufacturing ISM report is the market's favorite leading indicator for non-farm payrolls. This month, not only did the service sector expand at its slowest pace since February 2010 but the employment component of the report dropped to its lowest level since March 2010. This was also the first time that jobs contracted in over two years. However the last time the employment component was this weak, non-farm payroll growth was relatively strong-payrolls rose 156k in March 2010 after falling 50k the previous month.
In November 2011, when the employment component of ISM services last contracted, non-farm payrolls rose 164k. As shown in the chart below, over the past eight months, the directional change in the employment component accurately forecasted the directional change in payrolls 75% of the time. However if we expand the sample to 12 months, the accuracy rate drops to 58%. Click to Enlarge
On an even longer sample set, the non-manufacturing ISM is still a reliable guide for payrolls. Yet while we continue to believe that payrolls could fall short of expectations today, it is important to realize that the leading indicators for NFPs can miss the mark as well. The Federal Reserve is certainly hoping that this will be case as they want to continue tapering asset purchases at their current pace.
By Kathy Lien, Co-Founder, BKForex.com