How to Train Your Eyes to See Chart Patterns (Part 4)
06/18/2009 12:01 am EST
Focus: STRATEGIES
Let's look at another Canadian dollar chart and continue our analysis. As you'll see below, the base line of the grand cathedral, as well as the base line and multiple bottoms just above it, held price's attempt to go lower and now price has zoomed past the multiple tops and inverted base lines, marked with a blue trend line. You can see price did pull back once to attempt to break back below the blue base line, but it held firm and quickly turned back higher. Price is now working on building a new structure on top of a lower, tested structure. If median lines show you where price should run out of directional energy, these cathedrals (and similar structures) are the building blocks of market structure.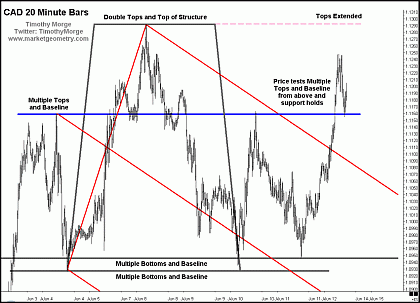 Click to Enlarge
Price continued higher, so I added a blue, up-sloping median line and its parallels to show me the probable path of price. This median line did contain the current highs and now price has pulled back and is consolidating above the blue trend line that marks multiple tops and several inverted base lines.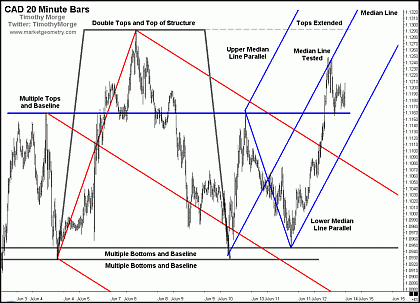 Click to Enlarge
The two areas to watch now, according to the cathedral structures we have marked on our "Market Map," are marked by simple trend lines: the support marked by the blue trend line and the overhead top of the grand cathedral, which may act as resistance, marked by the red dashed line. The question in the back of your mind should be "Is this the range marked out on this chart in front of me or have I seen higher structural highs and higher structural lows, leading me to believe higher highs are on the way?"
These are not meant to be precision entry tools. They are broad, brush-stroke structures that should be easy for your eye to spot and interpret. They have very few rules, they are voids that tend to get filled and the price action that follows the formation of their base line tends to give fairly accurate clues as to where price is headed.
I hope you found this presentation on the building blocks of market structure interesting and informative. If nothing else, it should encourage you to go find a comfortable patch of ground, lie down on your back and gaze at the clouds, looking for your favorite shapes.
Timothy Morge
timmorge@gmail.com
www.medianline.com
www.marketgeometry.com