How to Predict Price Direction: An Aussie Dollar Case Study (Part 5)
07/03/2009 12:01 am EST
Focus: STRATEGIES
I felt that if I was an inexperienced trader, once I had reached 15 pips, I should move my initial stop loss order to a break-even stop order. And I felt it would be important to use a profit target on the first half of this position that would have a high probability of being executed, so I placed it above the prior swing low, as well as above the major support. Even though price hit my break-even profit stop, I had already taken 34 pips profit on half the trade, more than I had initially risked per contract (17 pips per contract gained after risking 15 pips per contract).
Let's see if the move up was a wash and rinse or if the up move continued: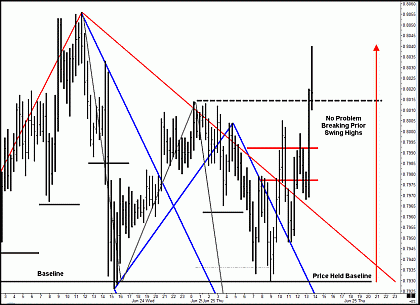 Click to Enlarge
As you can see, after filling my profit order on the first half of my position at .7933, price headed higher and filled my break-even stop loss order quickly. It turned back a bit, but then shot higher and started a series of higher highs and higher lows. This was a good example of locking in some profits ahead of major support so that I didn't have to walk away after expending all the time and energy and the exposure to my capital with no profits to show for it. The 17 pips per contract would not make me rich, but I consider it a potential loss rolled forward, meaning I am trading with the market's money when I enter my next trade.
Timothy Morge
timmorge@gmail.com
www.medianline.com
www.marketgeometry.com