How a Repeating Pattern Makes for Consistent Trading Profits (Part 5)
07/17/2009 12:01 am EST
Focus: STRATEGIES
Price shot a bit higher and then traded sideways for some time before finally heading higher, hitting the profit target on the balance of my position at 118 31/32. I took 8 ticks out of the first half of this position and 21 ticks out of the second half of this position for an average profit of $435.12 1/2 per contract, before commissions.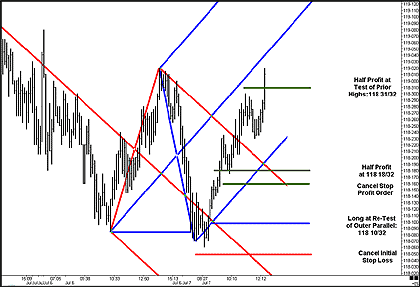 Click to Enlarge
For those of you who are familiar with this particular day in bonds, they actually traded quite a bit higher after my second profit target was hit, but I planned this trade exactly as I presented it here and traded according to my plan. I planned and played the market for what I thought were realistic expectations, and the market allowed me to realize both of my profit targets. The fact that the market traded higher after I took my profits doesn't bother me at all.
I hope you find these examples of "corner trades" interesting and informative. I am currently doing extensive research on a similar type of entry for the currencies, as well as other commodities and futures. Keep your eyes here for an article on that entry technique if it proves to be successful!
Timothy Morge
timmorge@gmail.com
www.medianline.com
www.marketgeometry.com
Twitter: @TimothyMorge