Can You Use The Baltic Dry Index to Forecast the S&P 500?
09/01/2009 12:01 am EST
Focus: STRATEGIES
There's been some chatter on the recent downturn in the Baltic Dry Index, which has been a rough leader of the S&P 500 at key turning points. Let's take a look at the recent relationship between the two indexes and what the current BDI is showing.
The Baltic Dry Versus S&P 500 Over Last Few Months: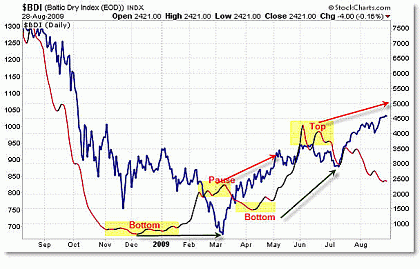 Click to Enlarge
The Baltic Dry Index is a poll of what it costs to ship goods overseas and can be a leading indicator of economic activity, and thus, stock market performance.
The main point is that the BDI (red and black line, scaled to the right in thousands) "bottomed" in December 2008, which was roughly three months ahead of the March 2009 stock market bottom.
The BDI topped, or "paused" (consolidated) in March as the US stock market bottomed, which led the consolidation (pause) in the stock market from May until July—another three-month lead.
The BDI then bottomed in April 2009, which preceded the bottom of the downswing/consolidation period that ended in the S&P 500 in July with the failed head and shoulders pattern—again, a three-month lead.
Finally, the BDI topped and began retracing starting in early June 2009, and if we add three months to June, we have an S&P 500 equivalent of early September 2009 for a potential top and beginning of a retracement back down in the S&P 500.
If the theory is correct, then we should expect to see a top in early September and a stock market retracement possibly beginning very soon.
The Current Baltic Dry Index: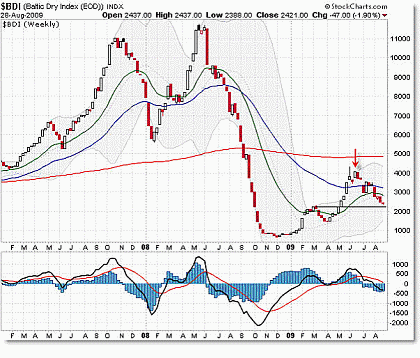 Click to Enlarge
Remember, the BDI is more closely tied to economic conditions and commodity prices than the S&P 500, but there is a logical, positive correlation of commodities and the S&P 500 (take a look at how crude oil and the S&P 500 roughly move in the same direction, be it up or down).
It's an interesting correlation, and potential strong warning signal for the S&P 500, but remember that correlations are not perfect and we always deal in probabilities for market forecasts.
Still, it's something to keep in mind for the week ahead as we begin September afresh.
By Corey Rosenbloom of AfraidToTrade.com