A Quick Lesson on Elliott Waves in the SPY
09/08/2009 10:21 am EST
Focus: STRATEGIES
Not only was Friday's trading day active and interesting, but price gave us a neat example of the "fractal" concept of the Elliott Wave principle.
Let's take a look to see a good educational example of how the concept played out on the ultra-short, one-minute time frame: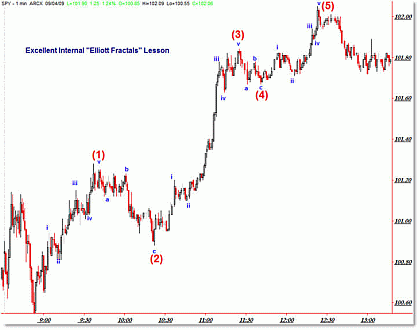 Click to Enlarge
Granted, this fractal move was part of a larger fractal starting from the prior day's trading and probably finishing into the future, but from an educational standpoint, take a close look at how each impulse wave (likely of a larger 3rd wave) subdivides into its own impulse wave as taught by RN Elliott.
The main lesson is to recognize the powerful "third of third," or the heart of the move, which occurred just after 11:00am CST on this chart. You don't have to get the labels correct, but understand the concept—based on the momentum principle—that such a large impulse is likely to lead to higher prices yet to come after future pullbacks/retracements.
It's my perspective that you don't' have to be an Elliott purist, but just understand the concepts of momentum and divergences, and pullbacks to support for trade set-ups.
I couldn't pass up showing this example though. It always fascinates me how the Wave principle, which was described originally around the 1920s - 1930s, still holds up on a one-minute ETF chart intraday in late 2009.
By Corey Rosenbloom of AfraidToTrade.com