Low-Risk Trading in Financially Strong Stocks (Part 4)
10/08/2009 12:01 am EST
Focus: STRATEGIES
This five-part series is a simplified guide to investing in stocks that return 20% or more per year with minimum risk. Parts 1 through 3 touched on the advantages of investing in financially strong companies, how to identify them, and how to maximize returns and minimize risks.
Most traders lose money in the markets, but you don't have to be one of them! Mimic the thinking of the best traders and you will reap similar success. See Figure 6 below for some powerful quotes from very successful traders. Read each quote and ask yourself if you agree or disagree with the principle of the quote in your trading. Check Yes or No for each statement, and pay attention to the "No" answers. Read books on these areas to develop your trading skills.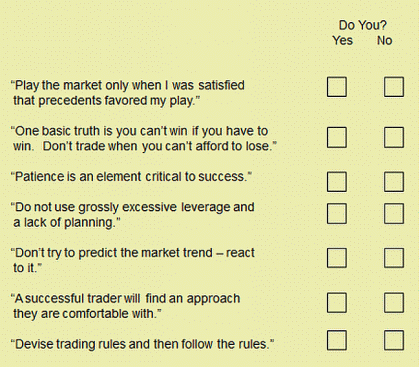 Click to Enlarge
In Napoleon Hill's book, Think and Grow Rich, he says, "You are what you think." Positive affirmations are a powerful training tool, according to Hill. Write down your trading affirmations now. Use "I am…"and "I will be…" statements. Keep your affirmations close at hand and refer to them often. Read them out loud at least three times a day. You are what you think.
For illustrative purposes, you can see one successful trader's affirmation below:
I Am a Successful Investor:
Portfolio of 33 financially strong stocks
In-the-market MACD crosses up
Supplement trades with option strategies
Expected return >30% per year
I will never overtrade—stay with the system
I will realize it's OK to lose if I have followed the rules
I will be patient—there will be another opportunity
When making a market analysis, I will review my trading rules
I Am a Successful Options Trader:
Business Projection: 2X profit per year
Volatility breakout trading
Limited risk, low anxiety, love research
On target
I will never trade for excitement
I will never overtrade a position
I will never go against my business plan
I will not try to predict the market direction, but instead, I'll react to it
I Will Have Continued Success
Part 5 of this series will discuss how to put together a trading business plan so you can trade like a professional.
By Dale Brethauer, trading mentor, Pacific Trading Academy