How to Spot and Trade a Bear Flag Chart Pattern
10/30/2009 12:01 am EST
Focus: ETFS
The morning session, continuing over from a pattern into yesterday's close, gave us an excellent example of a bear flag that I'd like to show you as an educational reference on trading tactics and enhanced flags. Let's take a look: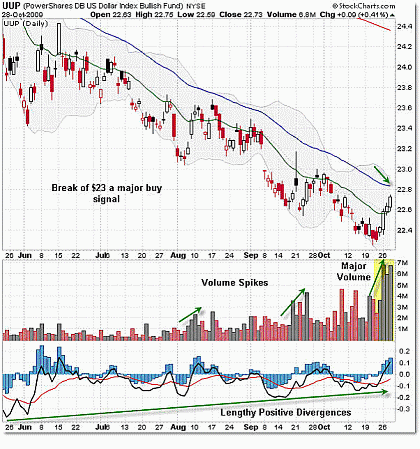 Click to Enlarge
Remember that the US dollar index is inversely correlated (trades opposite) the S&P 500 and most commodities, including crude oil and gold.
In regard to the UUP, the bullish US dollar ETF, we see price in a solid downtrend, but there are a few bullish potential reversal factors to consider.
There's a lengthy positive momentum divergence that has been in place since March 2009 (not shown). The bullish divergence also shows up on the weekly frame.
This reminds me of a similar structure in the USO and crude oil as we turned the corner into 2009, which I discussed in prior reports entitled "Possible Reversal Up in Crude Oil and USO," and "Rounded Reversal in Crude Oil."
The implications for a possible reversal are the same.
Also, there has been a surge in volume into the UUP ETF over the last three days as price has advanced in three solid bullish bars…that's bullish.
Three bullish bars are not enough to reverse such a powerful downtrend, so the official reversal— if it starts here—will not be confirmed until price rises above the 50-day EMA and then (preferably) the 20-day EMA will cross bullishly above the 50 EMA.
A close over $23 per share in the UUP would also be a powerful bullish omen, as price would have cracked above the 50 EMA and a prior resistance price high.
Odds are decent, though of course not guaranteed, that if a reversal is to form, chances are good it could form here. Otherwise, the sellers will override these bullish signals and the overall downtrend will continue to test the prior lows of 2008 (roughly $71 in the US dollar index).
Remember that if the US dollar index continues to rise from here, then it would be quite bearish for the S&P 500 (stock market), crude oil, and gold, (and of course, the euro).
By Corey Rosenbloom
Corey Rosenbloom is a trader and blogger at AfraidToTrade.com