What Does an Ascending Triangle Say About Oil?
01/08/2010 12:01 am EST
Focus: COMMODITIES
Crude oil has a bullish seasonality going into the end of the year, but the end of 2009 saw a major price expansion move to the upside, re-breaking above an ascending triangle trend line that carried crude oil prices to fresh new recovery highs. Let's take a look at this recent development.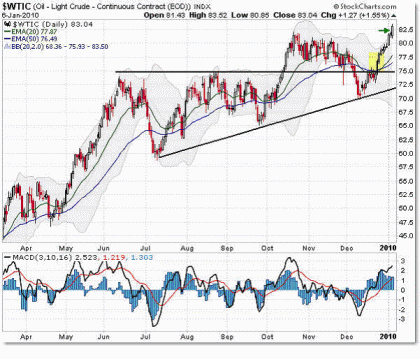 Click to Enlarge
Starting with the June 2008 highs, we saw a clean horizontal resistance trend line form at the $75.00 level that contained price mainly as a key resistance level to watch.
Price began forming higher swing lows as the year progressed, leading to a range breakout in mid-October that took the commodity to new recovery highs. We then witnessed a quick pullback that was nothing more than a "sprung" bear trap, and that trap—and test of the lower trend line—preceded the recent move to new recovery highs today.
Sometimes, basic trend line analysis can trump complex methods in technical analysis, or at least give clearer set-ups that lead to cleaner places to locate stops or put on positions.
As price rallied, the $80 level became an important resistance area, and in 2010, price has had no difficulty in overcoming resistance.
The trend is up, the moving averages are up, and price has broken cleanly out of an ascending triangle. If we call the upper trend line at the $72.50 area, and note that the triangle began its first swing at the $60 level, then we can set a potential upside target.
Subtracting $72.50 and $60.00, we get $12.50, which is the estimated height of our triangle.
According to classic technical analysis, we then add this $12.50 to the breakout zone at the $72.50 area, giving us a potential upside price target of $85.00.
If you consider the upside resistance area of the triangle to be $75.00, then your price target becomes $90.00.
The way price is moving, it looks like there will be open air now that we have cleared overhead resistance and stops from the short-sellers are being taken out.
Watch for signs of continuation, and take note that commodities and stocks are correlated, so what's bullish for one is generally (in this environment) bullish for the other (and bearish for the dollar).
By Corey Rosenbloom of AfraidtoTrade.com