Major Fibonacci Clusters to Watch
09/26/2011 12:12 pm EST
Focus: STOCKS
Try tuning out the news headlines that are creating such rampant volatility and focus instead on these important Fibonacci zones for the S&P 500, which are likely to produce reliable trade set-ups in the near term.
With markets in a turbulent/volatile phase on the lower time frames, it can be very helpful to slow the pace down by pulling up to a higher time frame.
See related: More Time Frames, More Confidence
Let's take a look at two major Fibonacci cluster levels that help us make sense of the current S&P 500 index activity: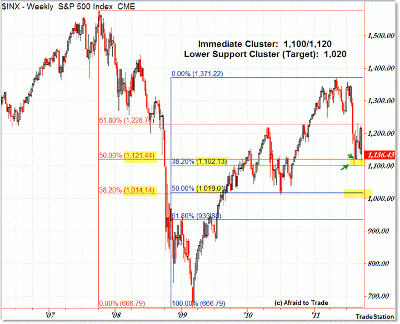 Click to Enlarge
Starting with the larger (red) retracement grid, this is the dominant Fibonacci grid from the bear market top to bottom, as drawn:
61.8% level: 1,228
50% level: 1,121
38.2% level: 1,014
Now, moving to the closer (blue) retracement grid from the "bull market recovery" phase, as drawn:
38.2% level: 1,102
50% level: 1,019
61.8% level: 935
A quick glance at the overlapping (clustering) Fibonacci retracements reveals the two dominant index levels:
1,100 and 1,120 (which also clusters with the 2011 support lows)
1,020 (which similarly clusters with the 2010 support lows, along with 1,040)
Broadly, what this suggests is that if the index cannot hold the Fibonacci support cluster here at 1,100, then we can expect a continuation fall to the lower support cluster, which would become a target under 1,100 (at 1,020).
From this, you can develop trading strategies/set-ups along the way depending on whether the immediate 1,100 cluster holds or breaks.
With all the headlines swirling around, sometimes it helps to cut right to simple tactics as much as possible.
See related: Fibonacci Analysis: Master the Basics
By Corey Rosenbloom, trader and blogger, AfraidToTrade.com