Palladium Getting a Bit Shinier
12/10/2012 6:00 am EST
Focus: COMMODITIES
Although not as sexy as its more shiny brethren-gold, silver and platinum-this metal is nevertheless on a tear since a widely read report forecast a supply shortage into 2013. The staff at ProfitTimes makes the case for why palladium is now at a critical point.
Below is a chart of palladium from the bottom of late 2008 until Friday. I added Fibonacci retracement levels, as well as Fibonacci Fan lines. We can clearly see why price is struggling with the $700 right now, as there is both the 76.40% retracement level from the bottom in 2008 to the top in 2011, AND the 50% retracement level from the top in 2011 to the bottom of late 2011. We can see that this $700 level has acted as both support and resistance during the last two years.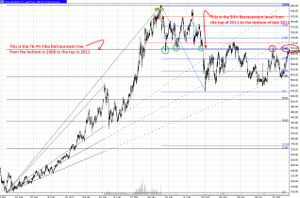 Click to Enlarge
Below is a 4H chart of palladium, showing once again that Fibonacci is clearly at work.
Please note the negative divergence between price and MACD on a 4H basis.
This could mean a short-term top is in, and that palladium could retrace over the next couple of days.
If the top was set Thursday, The first target would be $670, followed by $655, and $642.50ish (all are Fibonacci levels).

Click to Enlarge
$670 is very likely on a daily basis if price doesn't break through $700, due to the fact that the middle Bollinger Band (or 20-day moving average) is currently at $665 and rising (meaning it will soon reach this $670 level), where it should provide (at least some) support.
If $700 would break to the upside, then I expect a lot of technical buyers to step into the market, as we would then have a higher high in price.
By the staff at ProfitTimes