3 Emerging-Market Technical Leaders
11/16/2011 8:30 am EST
Focus: STOCKS
Some Chinese and Latin American names are showing some good price action again, and are worth a look, writes MoneyShow.com contributor Kate Stalter.
Emerging-market stocks, which were some of the market's biggest darlings in recent years (and even recent months, before the indices began toppling in May), have largely fallen off the radar lately.
There's good reason for that: The market's leading stocks these days tend to be North America-based mid-caps. That's a far cry from the days when Chinese small caps and Latin American companies of various market caps were among big gainers.
With the exception of Baidu (BIDU), many of the nation's US-listed ADRs have been under selling pressure as sentiment toward the companies—and their accounting practices, in particular—turned sour.
A few exceptions are popping up, however. In Monday's market action, some of the biggest percentage gainers were China-based stocks. China Shen Zhou Mining & Resources (SHZ), which processes fluorite, used in a number of applications, including the production of iron, rose 21% in the session on enormous volume. The company also mines for zinc, copper, and lead.
Monday's price move was an extension of a 27% gain in October. The stock is up more than 37% so far this month.
Despite the gains, I can't consider the stock a leader. It has a shaky track record when it comes to earnings performance, and it's trading about 77% below its January high.
A more solid fundamental performer, Chinese semiconductor designer Spreadtrum Communications (SPRD), is working on its fourth month in a row of huge price gains. The breathless pace strongly suggests that a pullback can't be far away. The stock has run up a stunning 117% since the end of July—a level that's unsustainable over the long term.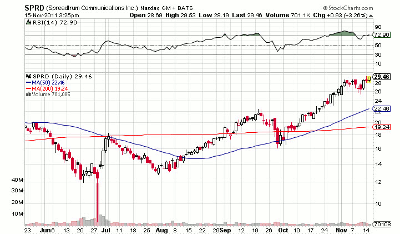 Click to Enlarge
The stock's fundamental picture is outstanding, with earnings bouncing back strong in 2010 after two years of losses. Analysts expect to see 2011 wrap up with earnings of $2.38 per share, a gain of 56% over last year. That pace is seen slowing to 11% in 2012.
The fundamentals suggest that the stock may still have room to run in the future, but its chart looks overdue for a breather.
NEXT: 2 Picks a World Away from China
|pagebreak|
While many Chinese issues continue to show beaten-down charts, some Latin American names are trending along nicely enough.
Argentina-based MercadoLibre (MELI), often dubbed "the Latin American eBay (EBAY)," is holding its gains after rocketing 25% two weeks ago, regaining its ten-week and 40-week moving averages.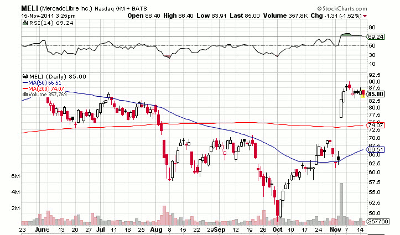 Click to Enlarge
The stock gapped up on November 3 in enormous volume after a better-than-expected third-quarter report. It had fallen as much as 48% in its most recent price consolidation.
The company operates in more than a dozen Latin American markets, although the vast majority of revenue originates in four countries: Mexico, Argentina, Brazil, and Argentina. EBay owns about 18% of MercadoLibre.
Like eBay, the company operates not only an online marketplace, but also a payment service. Analysts see favorable trends continuing to work in the company's favor. Earnings are expected to grow 33% this year and 34% in 2012.
A Brazilian beer maker that was a leader for much of last year is Ambev (ABV). It's struggled this year to gain traction above its ten-week average, retreating quickly after rallying to an all-time high of $36.30 in September.
The stock has been forming a potentially bullish price consolidation since then. Volume has been below average in recent weeks, a good sign as the stock hovers between its ten-week line and resistance at $34.79. Watch for heavy volume as it clears that resistance; it may offer a technical buy point.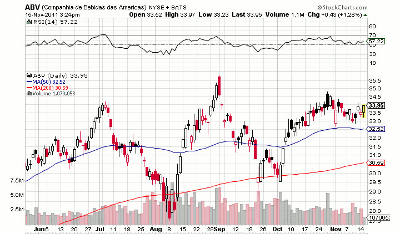 Click to Enlarge
Recent technical action gives me some optimism about the stock's prospects for further gains. In a consolidation that occurred between June and September, price lows undercut the trough of the previous consolidation. That kind of action often flushes out holders lacking in conviction, and sets the stage for new buyers to grab shares at a lower price.
The stock is a large cap, so it tends to move more slowly than some smaller emerging-market issues. While analysts anticipate solid growth ahead, the explosive increases seen in younger, smaller growth names is not expected. Wall Street is eyeing profit increases of 14% and 10% in the next two years.
Ambev's brands include Budweiser and Stella Artois—both of which are considered premium beverages in Brazil. Industry analysts see room for these brands to increase market share. As with MercadoLibre, greater disposable income as more Latin Americans move into the middle class is expected to drive growth.
Related Reading: