3 Small Caps with Strong 50-Day Support
05/03/2012 12:00 pm EST
Focus: STOCKS
Moving averages are a very simple, yet reliable indicator of technical strength, writes MoneyShow.com contributor Kate Stalter. Here, she shares three small stocks showing signals of buying at the key 50-day line.
One of the keys to my trading methodology has been to keep the use of fundamental metrics and technical indicators to a minimum.
Historically, many successful growth traders, such as Nicolas Darvas and Jesse Livermore, have used basic trend following as a way to determine entry points with a strong probability of working, and have used chart moves to indicate a good time to exit.
Growth managers today continue to use similar approaches with great success—though, to be sure, gains on the long side tend to be concentrated in market uptrends.
I've coached investors and medium-term traders for several years now. One pitfall I've run into consistently is this: In an era of "more is better," many believe that if a simple indicator is good, then overlaying a number of indicators will be even more effective.
Unfortunately, in my experience, that approach doesn't work—not where the market is concerned. Throwing in too many indicators often leads to contradictory signals and confusion, rather than showing you a solid reason why a buy or sell might be the best trade at any given moment.
Moving averages are among my favorite indicators. One average I like is the 50-day line…or, on a weekly chart, its rough equivalent would be the ten-week.
I typically scan dozens of charts in any given day, including some that look for support at the 50-day line. This is a reliable sign that institutional investors, such as mutual funds, hedge funds, banks, and insurance companies, are buying shares, often to bolster an existing position.
Earlier this week, one small stock that showed up on my moving-average support scan was H&E Equipment Services (HEES), a Louisiana-based company that leases heavy equipment for construction and industrial use.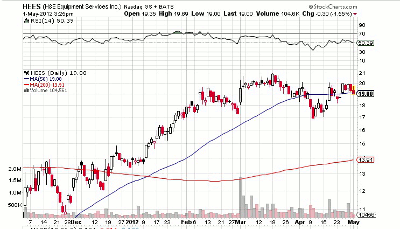 Click to Enlarge
The stock has been finding support at its 50-day line since April 25. As of mid-session Tuesday, it was trading at around $19.27, about 8% below a potential buy point at $21.
The company reports earnings Thursday, before the open. Analysts expect earnings of 4 cents a share on revenue of $161.75 million. Those would be improvements over a year ago, when the company reported a loss of 19 cents per share.
While it's tempting to consider jumping ahead of the report, it's always a safer move, from a risk-management standpoint, to wait. You might miss out on an initial gain, but a stock will pull back after that first jump, offering an alternate buy point before it resumes its gains.
Being patient through that phase is not always easy, but it's better than entering a position ahead of earnings, and then seeing your stock get smacked severely by poor guidance, or some other element of the report—such as narrowing margins or growing competition, for example—that investors don't like.
Another stock resting comfortably above its 50-day line is oil-and-gas services provider Mitcham Industries (MIND). The company offers seismic services to clients in the energy-producing sector.

Click to Enlarge
Mitcham was trading at around $24.49 mid-day Tuesday, 7% below a potential handle buy point at $26.44. The stock has closed above its 50-day line in each of the past four sessions, and was on track to keep that record intact on Tuesday.
The company next reports earnings in July, so that will not factor as a catalyst for either an up or down move for quite some time.
For more aggressive traders who don't want to wait for Mitcham to clear the $26.44 point, there could be another reason to make a purchase sooner. The shorter-term ten-day moving average crossed the 20-day last week. Such moving average crossovers are frequently precursors of further gains.
In a bear market, an entry on that action can be especially risky, because traders have shown, in general, that they are inclined to sell. However, in a confirmed uptrend, such as the indices are showing now, an early entry based on moving-average crossovers can prove lucrative.
Finally, there's a well known company that caught my attention because it had vaulted above 50-day support. Furniture maker La-Z-Boy (LZB) was not living up to its languid name. Instead, the stock jumped more than 2% Tuesday, along with the broader market rally.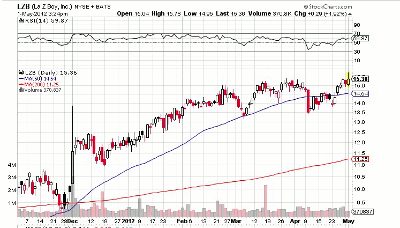 Click to Enlarge
It has closed above its 50-day average since April 25, and as of Tuesday was flirting with its recent price high of $15.44. That puts the stock in buy range.
The company reports its fourth quarter some time in June. So here, too, those results will likely not be a factor for a while. However, as always, pre-announcements could be released ahead of the formal reporting date.
At the time of publication, Kate Stalter did not own positions in any of the stocks mentioned in this column.
Related Reading: