4 Growth Leaders Setting the Pace
06/21/2012 11:59 am EST
Focus: STOCKS
With indices trending higher in heavy volume, some of the established growth names are once again asserting price leadership. MoneyShow's Kate Stalter looks at the opportunities presented in four stocks in particular.
One of the reasons I screen for stocks with strong earnings and revenue growth is to sort out those with a better chance of surviving economic downturns and re-emerging as strong investing or trading candidates. Because I use a version of trend following, I may hold purchases for days, weeks, or even months, if their uptrends remain intact.
While it's certainly possible to find gainers the score hefty price moves without the benefit of earnings or revenue growth, the fundamental leaders often attract institutional buyers who keep a trend in place longer. That can result in big stock winners in a bull market.
One fundamental leader that I've been tracking for months is currently also a price leader. Questcor (QCOR), a maker of pharmaceuticals to treat nervous-system disorders, has been trending higher along its five-day exponential moving average.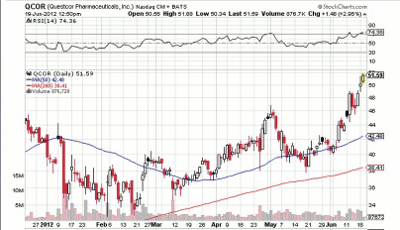 Click to Enlarge
It rallied to an all-time high of $51.42 on Monday, the day that many traders and investors had been waiting for to see how Sunday's Greek election results affected indices.
As it turned out, there was no jubilation rally, as many had expected. Instead, the indices wobbled, with Nasdaq notching a gain of 0.8% Monday, following on its heavy volume increase of 1.3% Friday, which could signal a new marketwide rally—if the gains are not undercut by heavy-volume selling in the coming sessions.
In short, it's still a dicey time on the indices. Any fresh uptrend is fragile. The uptrend that began in late April was curtailed soon after, with renewed selling pressure on the indices.
This is why stocks like Questcor are jumping out from my screens right now. It began its rally along its five-day EMA on June 6, well before the market uptrend began. At this juncture, I am watching the technical for the next moving average pullback that could present a buy opportunity.
Other stocks rallying to new highs are Monster Beverage (MNST) and Cerner (CERN). Those could very well present new entry points on pullbacks. But there are top fundamental performers whose charts are signaling a buy point is near.
Alexion Pharmaceuticals (ALXN) is a large-cap that I've written about here several times. The company has boasted earnings growth of 32% or higher each quarter of the past two years. Revenue has grown at rates of 36% or more. Analysts are eyeing income growth of 30% this year, to $1.79 a share. Next year, that's seen growing another 41%, to $2.52 a share.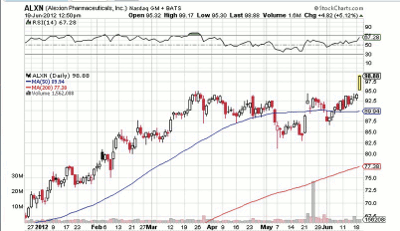 Click to Enlarge
As of Monday's close, the stock was hovering just near intermediate resistance at $94.40. If this stock clears that point and remains above its five-day EMA—and if the market remains in an uptrend—I consider this stock buyable.
Another stock that closed Monday in buy range was Ulta Salons (ULTA). The mid-cap rallied to a new high of $97.89 on June 6, after the company reported quarterly results. But it pulled back as the market weakened in subsequent sessions.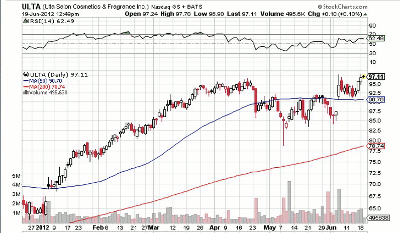 Click to Enlarge
Ulta found support at its 50-day average throughout its pullback, and began rallying again late last week. On Monday, it rallied to within one penny of its June 6 high. That places the stock squarely in the buy zone.
However, if global stocks pull back on further European worries, even US-based cosmetics superstores could suffer. In other words, a bout of selling tends to drag everything down with it, spoiling even recent breakouts.
Ulta has been a stalwart on my scans, due to its outstanding earnings performance. The company has shown quarterly earnings growth of 41% or more in the past two years. Revenue has risen at rates of 18% or more, also strong. Income is seen rising 34% this year, to $2.55 per share, and 26% next year, to $3.21 a share.
Another stock enjoying 50-day support is Web performance optimization specialist SolarWinds (SWI). This company went public in May 2009, so it's still a fairly recent IPO. That youthfulness often bodes well for stocks; equities that began trading within the past decade or so are frequently among the market's best price leaders.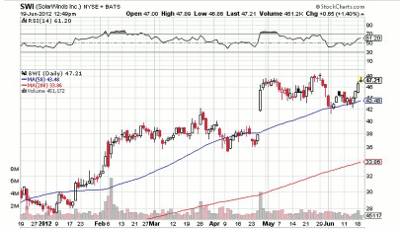 Click to Enlarge
SolarWinds rallied to an all-time high of $48.64 on May 29, then retreated to its 50-day line. When a stock showing excellent earnings and revenue growth gets support at its 50-day line in this fashion, it often presents an entry opportunity. In a bull market, less risk-averse traders and investors can buy near that trend line.
Market conditions in the next few sessions will likely play a significant role in determining whether stocks like SolarWinds will continue trending to the upside, or whether they will succumb to renewed selling pressures.
At the time of publication, Kate Stalter did not own positions in any of the stocks mentioned in this column.
Related Reading: