Stimulus Isn't Just About Bonds
09/07/2012 2:00 am EST
Focus: COMMODITIES
A whole host of economic effects come from government intervention in the markets, including this lesser-known but entirely logical winner, writes MoneyShow's Jim Jubak, also of Jubak's Picks.
And the big winner from this morning's news that the European Central Bank was prepared to buy Spanish and Italian government bonds?
Gold. The SPDR Gold Shares ETF (GLD) was up 0.48% as of 1:30 p.m. New York time on Thursday.
But shares of gold miners, where revenues and profits are leveraged to the price of gold, were up even more. Goldcorp (GG) was up 2.77%, Yamana Gold (AUY) was up 1.69%, Newcrest Mining (NCM.AU) was up 2.32%, and Newmont Mining (NMN) was up 1.87%. The biggest mover that I've been able to find among gold majors is Randgold Resources (GOLD), up 6.08%.
It's not hard to understand why. With ECB President Mario Draghi's plan taking the risk out of Europe—and the euro—the US dollar is down today against the euro. (Or the euro is up against the dollar, if you prefer, to $1.2634.)
Traders don't feel the same need today to seek the safe haven of US dollar-denominated assets. (The ten-year Treasury, for example, is down in price and the yield is up to 1.677% today.)
With the dollar down, the price of commodities traded in dollars is up. That includes gold (up $10.90 an ounce to $1,704.90) and oil (West Texas Intermediate is up 1.12% to $96.43). Only copper is bucking the trend.
With commodity prices up, the price of commodity stocks has climbed too. For example, Freeport McMoRan Copper & Gold (FCX) is up 3.42% today, and Brazilian iron ore giant Vale (VALE) is up 2.19%.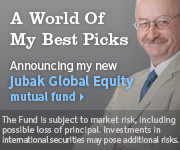 Full disclosure: I don't own shares of any of the companies mentioned in this post in my personal portfolio. The mutual fund I manage, Jubak Global Equity Fund, may or may not now own positions in any stock mentioned in this post. The fund did own shares of Freeport McMoRan Copper & Gold, Goldcorp, Randgold, Newcrest Mining, and Yamana Gold as of the end of March. For a full list of the stocks in the fund as of the end of March, see the fund's portfolio here.