Opposite Day Returns to China
10/09/2012 4:39 pm EST
Focus: GLOBAL
Why would Chinese markets boom on an otherwise poor day for the global economy? MoneyShow's Jim Jubak, also of Jubak's Picks, has one possible answer.
Very, very interesting action in China's stock markets overnight.
Despite cuts in growth forecasts from the International Monetary Fund, Chinese stocks in particular and Asian stocks in general climbed overnight. That contrasts with a drop in European and US stocks in today's sessions.
To pick some specific examples, the Shanghai Composite climbed 1.97% and Hong Kong's Hang Seng index was up 0.54%. The German Dax index fell 0.78% and the Spanish Ibex 35 was down 1.85%.
And in the US at 12:30 p.m. New York time, the S&P 500 was down 0.81% and the Nasdaq Composite had fallen 1.32%, as traders and investors continued to sell shares of Apple (AAPL) on fears that third-quarter earnings will disappoint.
The difference in the behavior of the Chinese and European/US markets? Those developed-economy markets are seeing forecasts for slower growth as bad news.
In the United States, those forecasts are coming against a background of fears that third-quarter earnings season—which officially begins today when Alcoa (AA) reports after the close in New York—will disappoint. The forecast right now is for a year-to-year decline of just a tad less than 2% in earnings for S&P 500 stocks.
In the Chinese and Asian markets, however, traders see recent forecasts of lower growth as guarantees that the Chinese government and the People's Bank will move more vigorously to stimulate China's economy.
This scenario, which I wrote about at length in posts last week and this morning, has especially pushed up the shares of commodity- and export-oriented Chinese stocks. On the Hang Seng, overnight winners included PetroChina (PTR), up 2.11%, and China Petroleum and Chemical (386.HK), up 3.8%.
It's certainly too early to say that today's action is a guarantee of the kind of rally in Chinese and Asian stocks that I wrote about earlier today. But it is certainly the kind of move I'd expect if that rally were going to materialize in the fourth quarter.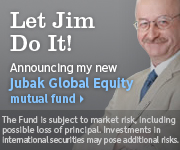 Full disclosure: I don't own shares of any of the companies mentioned in this post in my personal portfolio. The mutual fund I manage, Jubak Global Equity Fund, may or may not now own positions in any stock mentioned in this post. The fund did not own shares of any stock mentioned in this post as of the end of June. For a full list of the stocks in the fund as of the end of June see the fund's portfolio here.