Is China Opening the Floodgates?
01/15/2013 4:00 am EST
Focus: GLOBAL
Regulators are considering drastically easing the restrictions on foreign stock investments in Chinese markets, which only made a ongoing rally stronger, writes MoneyShow's Jim Jubak, also of Jubak's Picks.
Stocks on China's three markets rallied after the head of the China Security Regulatory Commission said that China could increase by ten-fold two programs that allow foreign investors to buy stocks and bonds on mainland markets. As you might imagine, investors and traders in China took this as a sign that the Beijing government wants stocks to go up.
Hong Kong's Hang Seng index was up 0.6% on the news, but the bigger jumps took place in Shanghai, where the Shanghai Composite Index climbed 3.1%, and Shenzhen, where the Shenzhen Composite rose 3.3%.
The Shanghai Composite Index is now up 18% from the low on December 3. The biggest winners were among brokerage, banks, and property developers. For example, shares of Citic Securities, China's biggest brokerage, climbed 6.2% in Hong Kong and 6.9% in Shanghai.
Expanding the amount that foreign investors could invest in mainland markets would require raising the quotas in the Renminbi Qualified Foreign Institutional Investors and the Qualified Foreign Institutional Investors programs. The first allows yuan held offshore in Hong Kong to be invested in mainland markets; the second allows foreigners to buy yuan-denominated stocks and bonds. Since 2003 to November 30, 2012, China's regulators have approved a combined quota of $36.04 billion.
Expanding these quotas would go along with other recent steps to increase foreign ownership of mainland stocks and bonds (and to prop up slumping equity markets.) In December, the government removed the ceiling on investments by overseas sovereign wealth funds and central banks.
In yesterday's session, trading volumes on the Shanghai Composite were 38% higher than the 30-day average. The stocks in the index trade at 12.8 times trailing 12-month reported earnings. The seven-year average for the index, according to Bloomberg, is 21.4 times reported earnings.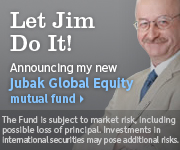 Full disclosure: I don't own shares of any of the companies mentioned in this post in my personal portfolio. The mutual fund I manage, Jubak Global Equity Fund, may or may not now own positions in any stock mentioned in this post. For a full list of the stocks in the fund as of the end of September, see the fund's portfolio here.