Facebook Keeps Investors Waiting
01/16/2013 5:00 am EST
Focus: STOCKS
The social media giant's backers were hoping to hear about something that could start earning real money from its enormous user base, but that didn't happen, writes MoneyShow's Jim Jubak, also of Jubak's Picks.
Facebook's (FB) big announcement today, January 15, has turned into much ado about not very much.
The initial take was that Facebook would finally be getting into the search business. That would be a huge (eventual) challenge to Google (GOOG), since Facebook would be able, analysts projected, to generate search results that would be personalized by a users network of friends. Google's shares initially fell as Facebook's event began.
But it turns out that Facebook's product, called Graph Search, isn't a full-scale search engine. (Google shares moved up as investors digested that.)
Instead, it is a narrow focus search that will allow users to search their network of friends for photos, people, places, and interests. That will put Facebook directly into competition with focused review aggregators such as Yelp (YELP).
On Facebook, a search on Mexican restaurants in Los Angeles would pull up recommendations from Facebook friends of the user. That might be more useful than reviews on Yelp that come from strangers. Or depending on a user's friends, of course, Yelp might offer considerably more information than a Facebook search for restaurant recommendations. This all led to selling pressure on stocks of companies such as Yelp, LinkedIn (LNKD), and Zynga (ZNGA).
And then, as analysts focused on Facebook CEO Mark Zuckerberg's vagueness (to be kind) about how Facebook might actually monetize Graph Search, Facebook shares themselves fell. "This could potentially be a business over time," Zuckerberg said during the question-and-answer session.
It didn't help either that the Graph Search as introduced today will run only on desktop computers. A version for mobile devices is something Facebook will work on next, Zuckerberg said. He did not give a timetable for delivering Graph Search to mobile devices.
In other words, Facebook's big product introduction today, the company's first since its IPO, didn't really answer the big continuing question about Facebook: How will the company make money from its huge number of users?
Shares of Google closed up 0.05% for the day. Shares of Yelp were down 5.6%, and shares of Zynga were off 1.53%. LinkedIn closed with a 0.2% gain. Facebook itself retreated 2.42% on the day.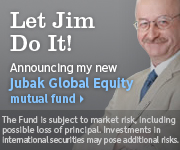 Full disclosure: I don't own shares of any of the companies mentioned in this post in my personal portfolio. The mutual fund I manage, Jubak Global Equity Fund, may or may not now own positions in any stock mentioned in this post. For a full list of the stocks in the fund as of the end of September, see the fund's portfolio here.