Japan is leading the way as nations look at boosting exports—and export companies—by devaluing their currencies. Here's how investors can profit from this battle, writes MoneyShow's Jim Jubak, also of Jubak's Picks.
The decision of the new government of Prime Minister Shinzo Abe in Japan to weaken the yen against the world's other currencies has set off a new round of warnings about a global currency war.
The warning echoes cries from Brazil in 2011, as a steady appreciation of the real against the currencies of trading partners such as China devastated Brazil's manufacturers.
This time, remarks like these from the perpetually understated German Chancellor Angela Merkel have raised a red flag: "I do not want to say that I can look at Japan at the moment without any concern," she said at the World Economic Forum in Davos, Switzerland, last month.
But what is most interesting to me as an investor is that although some countries have decided to fight these wars tooth and nail, others have decided to sit them out. I think that creates a clear divide between countries like Japan, which have decided to play for the short term, and those such as Singapore that see a clear long-term advantage to not fighting in the short-term war.
And I think your portfolio should reflect that division of the world, into short-term currency war combatants and long-term noncombatants. I'll have picks for you from both categories later in this column.
Why Japan Wants a Fight
You can certainly understand why Japan's government wants to fight the short-term currency battle.
In the last part of 2008, the yen traded at 109.89 to the US dollar, making Japanese exports relatively cheap for overseas consumers. That increased the competitive edge of Japanese exporters such as Toyota Motor (TM) and Canon (CAJ) and increased the profits of any company that sold outside of Japan and then translated those sales from dollars or euros into a cheaper yen.
The exchange rate was especially valuable to companies such as Mazda Motor (MZDAY)—which trades as 7261.JP in Tokyo—and Fuji Heavy Industries (FUJHY)—which trades as 7270.JP—that did most of their manufacturing in Japan, and that therefore got the biggest benefit from a cheap yen. (Mazda now manufactures 71% of its vehicles in Japan. Fuji Heavy, the maker of Subaru, does 75% of its manufacturing there.)
But as the yen climbed from near 110 to the dollar at the end of 2008 to 76 to the dollar at the end of 2012, Japanese exporters took a beating. (Remember that since the yen-dollar exchange rate is usually cited as yen to the dollar, the higher the number, the cheaper the yen.)
Credit Suisse calculates that the higher yen has cost Japanese automakers 3.68 trillion yen (roughly $40 billion at 90 yen to the dollar) in the five years that ended March 2012.
In response to a more expensive yen, Japanese manufacturers moved jobs from Japan to lower-cost countries such as China, Thailand, Mexico, and the United States, in an echo of the hollowing-out we've seen in US manufacturing. As a result, in December 2012 the number of manufacturing jobs in Japan fell below 10 million for the first time since 1961.
No wonder, then, that in the run-up to the December elections for the lower house of parliament, the emphasis was on how to revive the Japanese economy—and quickly. The country had slipped back into recession, with a 3.5% annualized drop in gross domestic product in the third quarter (following on a revised 0.1% drop in the second quarter).
The quickest way to get the job done, Liberal Democratic Party leader Abe argued, was a massive program of bond buying by the Bank of Japan, focused on the purchase of foreign securities that would drive down the price of the yen.
With currency markets anticipating what turned out to be an Abe victory in December, the yen began to fall even before the votes were cast. The currency has dropped by 14% against the dollar in the past three months, according to Bloomberg.
You can already see the short-term effects on Japanese exporters. On February 5, Toyota raised its earnings projections for the fiscal year that ends in March by 10%. On February 6, Mazda doubled its earnings forecast for the fiscal year that ends in March.
And the shares of Japanese exporters have soared. Shares of Toyota were up 34% from the November 11 low as of February 6. Shares of Mazda were up 248% from their October 30 low. (And I think they have further to run, which is why I added Toyota to my Jubak's Picks portfolio.)
In raising its earnings forecast for fiscal 2013, Toyota increased its assumption on the value of the yen to 81 to the dollar from 79 to the dollar. The yen traded at 93 to the dollar on February 7, and I expect the currency to weaken further to 100 to the dollar in calendar 2013.
Not Yet Out of Trouble
But as effective as a weaker yen might be in the short term in increasing exports by Japan-based manufacturers and at increasing the profits at these companies, it does nothing to address the structural problems in Japan's economy or the country's long-term demographic challenge.
Japan remains trapped in a deflationary psychology that makes Japanese companies and consumers reluctant to spend. Since everything will be cheaper tomorrow (in yen terms), why buy anything? Since demand is falling, why expand production or capital spending?
Japan has an extraordinary level of government debt (240% of GDP), but the country still has a high savings rate (1.9% in 2013, according to projections by the Organization for Economic Co-Operation and Development), considering years of recession, high (for Japan) unemployment, and minuscule interest rates on deposits and government bonds.
Much of Japan's government spending in stimulus packages is politically allocated, and has done little to add to real economic growth. The politically powerful countryside still gets more than its share of government outlays. An aging population requires an ever-bigger share of the government budget. A falling population of young workers and restrictive policies on immigration mean an aging, smaller workforce.
And I'd have to question how long Japan's consumers and any businesses that rely on imported inputs will put up with the pain caused by a falling yen. Japan imports almost all of its energy in commodities priced in dollars. In 2012, energy costs rose 10%. And that's before the yen recorded the major share of its recent decline.
That's only the beginning of the long-term costs of a weak-yen policy. A falling currency will eventually push up inflation (which, in the face of Japan's current deflation, would be good) and interest rates (which, given Japan's huge accumulated deficit and need to finance current spending with debt, would be bad).
It increases the costs of financing for Japanese companies, and it can, by giving companies an earnings crutch, reduce the chances that Japanese companies will restructure to assure continued global competitiveness.
And a weak yen will further diminish the standing of Tokyo as a global financial center. In the competition with Hong Kong, Shanghai, and Singapore, the decreased political independence of the Bank of Japan is a negative.
For Japan's new government, the balance of short-term pluses and long-term minuses comes down on the side of a weaker yen. Japan will be an aggressor in the global currency wars.
The War Beyond Japan
In some other countries, current leaders who are not facing the same kind of short-term crisis as the Abe government in Japan have reached a very different conclusion. For them, the long-term benefits outweigh the short-term pain of the currency wars.
Singapore, for example, seems to have concluded that if a country wants to ride the rise of Asian economies to become one of the top global financial centers, a sound, predictable currency is a big plus. It tightened monetary policy in 2012 to fight inflation that ran at 4.6% in 2012. That knocked down growth below levels in regional economies such as the Philippines and Indonesia.
The rewards, however, are that Singapore's bonds are rated AAA (in a world with increasingly fewer AAA-rated countries) and that it can borrow at low interest rates. The yield on the ten-year government bond is just 1.33% versus 4.53% in the Philippines and 3.69% in Thailand.
I think this is a huge edge for the Singapore Stock Exchange (Singapore: SGX) over the long term. Reports of negotiations between the Singapore Exchange and LCH Clearnet, Europe's biggest derivatives clearinghouse, suggest that the Singapore Exchange fully intends to push its advantage.
So How Do You Play?
So what does my perspective on the currency wars mean to you as an investor? It says that when you see a country announce that it is about to advance into the wars with banners flying in the short term, you should buy shares of that country's leading export companies.
I'd recommend that play for Japan for the next few months, until the rising costs of things like energy start to outweigh the rising earnings from a weaker yen. Other countries that are likely to play this game include Brazil, where the government of Dilma Rousseff is torn between defending Brazil's manufacturing sector in the short run and prodding those companies (and the economy generally) into greater efficiencies.
Switzerland, which I'd once have put in the solid-money camp, has linked its currency to the euro, indicating that it will stand for just so much pain from a strong Swiss franc. France, as recent calls to battle from President François Hollande indicate, would love to pursue a weak franc policy—but, whoops, there is no franc.
The French economy may be weakening faster than any other in the Eurozone, and French companies may be facing a terrible competitive disadvantage from a strengthening euro, but Germany has been adamant in its opposition to weakening the euro. In recent remarks, European Central Bank President Mario Draghi has indicated that he sees the economic pain a strong euro is inflicting, but he doesn't seem to feel pressed to do anything to weaken it.
I'd look to pick up shares of French sector leaders such as Danone (DANOY), which trades as BN.FP in Paris, or Louis Vuitton Moët Hennessy (LVMUY), traded as MC.FP in Paris, on strong euro weakness in the coming weeks. I think the euro will retreat again in the second half of the year.
As a debtor country, the United States wouldn't mind seeing a weaker dollar, but the Federal Reserve isn't going to do anything to suggest an official policy of devaluing the dollar, because any increase in interest rates would devastate the budget.
Countries that look as if they'll stay out of the wars and reap long-term rewards from the gains in credit rating and financial reputation that come with that include Chile, Norway, Canada, and Australia (though Australia may stay out of the wars not so much out of conviction as out of policy muddle).
Sweden, which has a reputation for financial stability, is showing signs of wavering as its export companies feel the pain of a strong currency, but seems likely to—mostly—hold to recent policies.
One way to profit from long-term advantages of nonparticipation in the currency wars is to look to financial institutions in these countries that—like the Singapore Stock Exchange—will be able to turn a reputation for stability into a competitive advantage.
I think that includes banks in these countries that will be able to use that strength to move out onto a regional stage from the national markets. Four to watch would be CorpBanca (BCA) in Chile, as it moves out into the rest of Latin America, Westpac Banking (WBK) in Australia, and Canada's TD Bank (TD) and Bank of Nova Scotia (BNS).
The two Canadian banks are moving on different strategies, with TD Bank targeting the US market and Bank of Nova Scotia headed into developing economies. Both, however, get an edge because Canada has steered clear of the short-term currency wars. (Westpac Banking is a member of my Dividend Income portfolio.)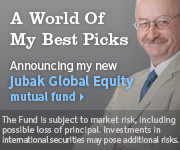 Full disclosure: I don't own shares of any of the companies mentioned in this post in my personal portfolio. The mutual fund I manage, Jubak Global Equity Fund, may or may not now own positions in any stock mentioned in this post. The fund did own shares of CorpBanca, Louis Vuitton Moët Hennessy, Singapore Stock Exchange and Westpac Banking as of the end of September. For a full list of the stocks in the fund as of the end of September, see the fund's portfolio here.