Who's Winning the Battle for Smartphone Supremacy?
11/30/2012 10:00 am EST
Focus: STOCKS
Apple has recently grabbed significant market share away from Android, writes MoneyShow's Jim Jubak, also of Jubak's Picks, putting them at the front of the pack coming into the critical holiday season.
Apple (AAPL) leapfrogs ahead in the smartphone market share race again on the strength of iPhone 5 introductions. That provides the company with meaningful sales momentum as it heads into the critical end-of-the-year selling period. But it also indicates how volatile this market is and how unlikely it is that any company can stay at the very top of the market share pile for very long. (Apple is a member of my Jubak's Picks portfolio).
In the 12 weeks that ended on October 28, Apple's iPhone gathered 48.1% of the US smartphone market, according to Kantar Worldpanel. That was a big leap from the company's 22.4% share in the same period of 2011. And it edged Apple's iPhones ahead of Android-based smartphones at the top of the smartphone heap. Market share for Android-based smartphones fell to 46.7% from 63.3%.
I expect to see market share re-shuffled a bit in the next reporting period since the 12 weeks to October 28 didn't include results from the release of new BlackBerry phones from Research in Motion (RIMM) or from the launch of new smartphones from Nokia (NOK.).
But the smartphone market is clearly an Apple/Android horse race at this moment with the lead horse depending on which platform introduced new models most recently.
Right now that's Apple—and the front of the pack is a good place to be as the field begins its turn into the end-of-the-year home stretch. Apple has made a good recovery from its $525.62 November 15 closing low to close at $589.36 on November 29, but I think this market share position indicates the stock has further to run as we head into 2013.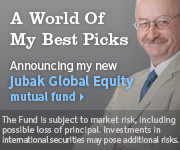 Full disclosure: I don't own shares of any of the companies mentioned in this post in my personal portfolio. The mutual fund I manage,
Jubak Global Equity
may or may not now own positions in any stock mentioned in this post. The fund owned shares of Apple as of the end of September. For a full list of the stocks in the fund as of the end of September see the fund's portfolio
here
.