A Tasty Treat for McDonald's
01/24/2013 9:45 am EST
Focus: STOCKS
A surprise earnings beat from the global fast-food giant boosted its stock price to $93, but MoneyShow's Jim Jubak, also of Jubak's Picks, digs deeper to find the reasons behind the good news.
A jump in December sales looks like it bailed out McDonald's (MCD) fourth quarter earnings, reported yesterday. Earnings climbed to $1.38 a share from $1.33 in the fourth quarter of 2011. Wall Street analysts were looking for $1.33 a share. Analysts had forecast a 1.8% drop in December same-store US sales and instead the company reported a 0.9% gain.
The question, if you own McDonald's (MCD) (the stock is a member of my Jubak's Picks portfolio.) is why? Do December results represent a one-time boost from company's decision to keep more stores open on Christmas than in 2011 and a shift of a limited-time offering of the popular McRib sandwich to December? Or is there something more lasting in the unexpected December increase?
Actually, it looks like the December surprise might be the result of price cuts that McDonald's (MCD) implemented in November that opened a small but significant gap between McDonald's (MCD) and its competitors. The November price cuts came to about 0.75 percentage points. That kept the company's price increase for the entire third quarter to 2%, according to Credit Suisse. That looks like it was significantly below price increases in the category.
This doesn't change the calendar on the tough year-to-year comparisons that McDonald's (MCD) faces in the beginning of 2013. The earnings increase in the first quarter of 2012 from the first quarter of 2011 came to 6.9%, and I don't think there's any way that McDonald's (MCD) matches that kind of growth in the first quarter of 2013. In its conference call, the company said that it expects global same-store sales to decline in January.
If you own these shares, you own them for the easier year-to-year comparisons that set in after the March quarter.
All the same, McDonald's (MCD) unexpectedly strong showing in December looks to me like a sign that the company has limited the last half of 2012 resurgence of competitors such as Burger King (BKW) and Yum! Brands' (YUM) Taco Bell.
As of January 23, I'm leaving my target price at $104 a share.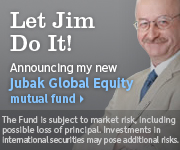 Full disclosure: I don't own shares of any of the companies mentioned in this post in my personal portfolio. The mutual fund I manage, Jubak Global Equity Fund, may or may not now own positions in any stock mentioned in this post. The fund did own shares of Banco Bilbao Vizcaya and Banco Santander as of the end of September. For a full list of the stocks in the fund as of the end of September, see the fund's portfolio here.