Berkshire Says Viva DaVita
05/08/2013 5:15 pm EST
Focus: STOCKS
A "standstill agreement" between the health-care stock and Warren Buffett's company strikes analysts as a telltale sign of a future buyout, not an impediment, writes MoneyShow's Jim Jubak, also of Jubak's Picks.
DaVita HealthCare Partners' (DVA) solid beat on first-quarter earnings on Tuesday was overshadowed this morning by reports of a standstill agreement with Warren Buffett's Berkshire Hathaway (BRK.A) that traders see as raising the odds of an acquisition.
DaVita, a member of my Jubak's Picks portfolio, is up 8% as of 1:30 p.m. New York time on the combined news. I had calculated a $149 a share target price for DaVita when I added it to the portfolio on April 5. As of May 8, I'm leaving the target price at that level.
First, earnings. The company reported earnings of $1.84 a share (excluding one-time items) versus Wall Street expectations of $1.80 a share. Revenue climbed to $2.83 billion against the $2.79 billion analyst consensus. The company raised its guidance for 2013 operating income to $1.8 billion to $1.9 billion from prior guidance of $1.75 billion to $1.9 billion.
Second, the standstill. DaVita said that Berkshire Hathaway, which already owns 14% of DaVita's shares, had approached the company about increasing its holdings. Berkshire has agreed that, if its position exceeds 15%, it would not propose an acquisition without consent from DaVita.
That would prevent an unsolicited, hostile takeover attempt by Berkshire Hathaway. But since Berkshire's deals are typically friendly, the agreement strikes traders not as preventing an acquisition, but as laying out a framework for a future deal.
Buttressing that logic are the names on the standstill agreement. On DaVita's side, the paper was signed by president Javier Rodriguez. For Berkshire, the signatory was Ted Weschler, a former hedge fund manager recently hired by Berkshire to help oversee investments. DaVita was among the biggest holdings in Weschler's hedge fund before he joined Berkshire.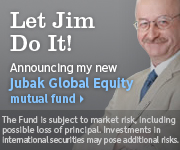 Full disclosure: I don't own shares of any of the companies mentioned in this post in my personal portfolio. When in 2010 I started the mutual fund I manage,
Jubak Global Equity Fund
, I liquidated all my individual stock holdings and put the money into the fund. The fund did not own shares in DaVita HealthCare Partners as of the end of March. For a full list of the stocks in the fund as of the end of March see the fund's portfolio
here
.