Swing Trade Idea for USD/CAD
03/11/2011 7:01 am EST
Focus: FOREX
The charts show that the USD/CAD currency pair is trading near the middle of a clearly defined range and a good swing trading opportunity is now being presented.
By Christopher Vecchio of DailyFX.com
The USD/CAD pair has been holding below parity for the past few weeks as the recovery finds footing in the world's most advanced economies.
After failing to break through the psychologically significant 0.9700 level during the last week of February and the first week of March, the pair jumped above 0.9750 as crude oil futures and equity markets plummeted.
Accordingly, Thursday's decline in the US equity markets came as no surprise given the USD/CAD pair's correlation with stocks: The Canadian dollar spot has a -0.732 correlation with the S&P 500.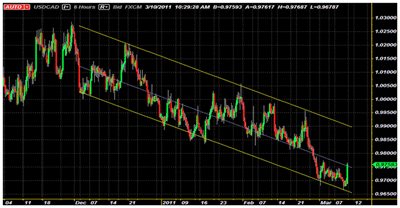 Click to Enlarge
As investors remain cautious about investing in risky assets on fears of contagion spreading throughout the Arab world, the USD/CAD pair remains a strong proxy for trading market sentiment, as indicated by moves in US equity markets.
Now, with the USD/CAD pair sitting in the middle of its descending channel, a swing trading opportunity has emerged for traders.
Levels to Watch:
Range top: 0.9900 (Trend)
Range bottom: 0.9655 (Trend)
By Christopher Vecchio of DailyFX.com