Playing PAY Earnings with Options
09/05/2011 8:00 am EST
Focus: OPTIONS
The company has started to build to the upside, and a good earnings report on Tuesday could give the stock a nice pop.
The holiday-shortened week offers up a few earnings reports of note—very few. We are now entering the midpoint between earnings seasons, so mining good option trades based on earnings announcements has becomes more difficult.
But, we've found one stock of interest that we see providing a bullish trade. It's VeriFone Systems (PAY), a provider of secure electronic payment services.
PAY reports third-quarter earnings tomorrow (Tuesday) after the close. Analysts are looking for 46 cents a share, a 28% increase from a year ago. That figure appears modest when compared to the 54% average growth seen over the past four quarters.
PAY has an excellent record of beating earnings estimates, having topped expectations for ten straight quarters. Performance after these reports has been solid as well, with last quarter being the lone exception (-2.2% the day after earnings). In the seven previous quarters going back to September 2009, the stock has popped more than 10% on average in just the one day following earnings.
PAY could use a boost after earnings. The shares are down 40% from their all-time high, reached in March, and 8% for the year. But the stock has recently rallied off the $30 level, gaining more than 8% to overtake its descending 20-day moving average.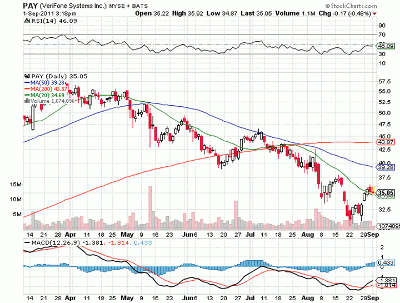 Click to Enlarge
Sentiment toward PAY is mixed. Analysts are generally bullish, with five of eight rating PAY a buy. The shorts are quiet and the put/call ratio is declining toward the lower end of its annual range. Not much to glean here.
There's no question PAY has had a rough year. But the selling appears wrung out of the stock, and post-earnings moves have been powerful to the upside. With a strong track of besting earnings estimates, look for another beat and a pop in the shares.
Consider buying the September 35 calls—for $2 or less only. If by the time you read this, news drives these options above $2, it may be too late to trade the move.
Chris Johnson is editor of The Winning Edge.