Bullish Option Play Is in the Pipeline
10/24/2011 11:26 am EST
Focus: OPTIONS
Shares of this oil services company are again testing a recent high, and if resistance is overcome, option traders can use a put spread strategy to capitalize on the likely upside move from there.
Atlas Pipeline Partners (APL) is testing resistance at $33.15 for the third time-a triple top. As it arrives there, it has a Relative Strength Index (RSI) that is trending higher and is above 60 and a Moving Average Convergence Divergence (MACD) indicator that is positive, but may be starting to fade. These could be a bit stronger but still support more upside.
See related: Demystifying the MACD
If APL can get over $33.15, it has resistance higher at $34, followed by $35.20 and $36 with a measured move (MM) higher at $40.00, as calculated from the double-bottom area near $27. Enter long on a break over $33.15 with a 2% trailing stop, taking some profits at a touch of $35.20.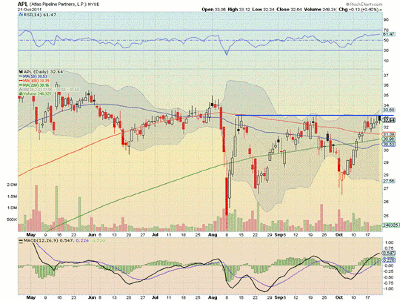 Click to Enlarge
For an options play, consider either a November 34/27 or 35/28 bullish risk reversal using the same trigger of a move of the stock price above $33.15. Using the 34/27 to illustrate, you would buy the November 34-strike call (offered at 75 cents near the close on Friday) and sell the November 27-strike put (bid at 25 cents near Friday's close) for 50 cents.
This spread carries about a 45 Delta, meaning that a $1 move higher in the stock to $34.15 would add 45 cents to the trade (to 95 cents), and to the $35.20 resistance, it would be worth near $1.40.
See related: How Delta Affects Option Profits
Being short the put exposes you to owning the stock if it closes below $27 on expiry, November 19, and uses margin. It can also be done as a cash-covered put sale in retirement accounts.
By Greg Harmon of Dragonfly Capital