Call Buyers Bet Big on Marvell (MRVL)
01/25/2012 8:00 am EST
Focus: OPTIONS
Exceptionally high call volume on Marvell Technology Group (MRVL) indicates that short-term traders expect the stock to finally overcome stubborn resistance on the way towards even higher prices.
Call activity has spiked on Marvell Technology Group Ltd. (MRVL) this week. Early in the week, MRVL had seen around 37,000 daily calls cross the tape, as compared to fewer than 4,500 puts. On average, MRVL typically sees around 11,000 calls change hands in a given session.
Jumping right in, it seems short-term traders are opening new positions at the weekly January 27 16-strike call and the February 16 call, which have seen roughly 6,600 and 16,300 contracts traded, respectively.
What's more, intraday volume has exceeded open interest at both strikes, and the majority of the near-term calls have traded at the ask price, pointing to bullish, buy-to-open activity. By purchasing the calls to open, the buyers are expecting MRVL to muscle north of the $16 level within the options' respective lifetimes.
From a broader sentiment standpoint, this preference for long calls is just more of the same for MRVL. On the International Securities Exchange (ISE), Chicago Board Options Exchange (CBOE), and NASDAQ OMX PHLX (PHLX), the stock sports a ten-day call/put volume ratio of 10.90, indicating that traders have bought to open almost 11 calls for every put during the past two weeks. This ratio registers in the 82nd percentile of its annual range, pointing to a healthier-than-usual appetite for bullish bets over bearish of late.
Likewise, the equity's Schaeffer's put/call open interest ratio (SOIR) of 0.37 indicates that calls comfortably outnumber puts among options slated to expire within three months. Furthermore, this ratio stands higher than just 12% of all other readings of the past year, suggesting short-term options traders are more call heavy than usual at the moment.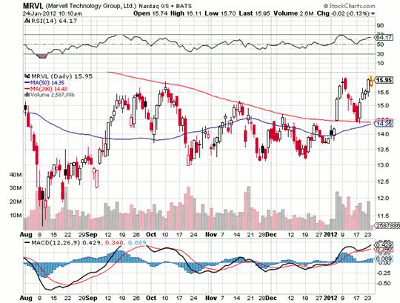 Click to Enlarge
Technically, MRVL is once again bouncing up against resistance around the $16 level, which it has twice tested since October of last year. A breakout above that level would obviously be bullish for the stock.
By Andrea Kramer, contributor, Schaeffer's Research