Is Volatility Making a Comeback?
03/29/2012 9:45 am EST
Focus: OPTIONS
After a period of stunning low volatility, the VIX has now bounced off multi-year lows, causing John Nyaradi and others to wonder whether this is the beginning of fear's long-awaited return to the markets.
The CBOE Volatility Index (VIX), also known as the "fear indicator," has bounced off significant lows as markets made a small retreat.
After a steady descent of approximately 30% from the beginning of 2012, VIX bounced off multi-year lows as "fear" started coming back to the market in response to poor reports regarding housing prices and consumer sentiment.
VIX jumped 9.3% mid-week to finish at 15.19 on Wednesday, up from recent lows in the mid-14s, levels not seen since before the onset of the financial crisis in 2008. Complacency has been running high as market participants expect earnings to be good and the Federal Reserve to step in to halt any meaningful decline in risk assets as their easy-money policies force people out of bonds and into riskier assets.
Volatility ETNs in Focus
The iPath S&P 500 VIX Short Term Futures ETN (VXX) is up 9.8%, as the ETN is designed to track the movement of the VIX, but oftentimes has significant tracking error.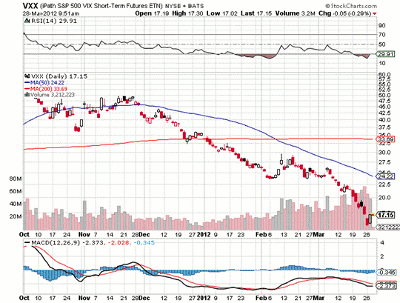 Click to Enlarge
The VelocityShares Daily Inverse VIX Short-Term ETN (XIV), which is designed to move opposite the daily moves of the underlying index, is down 9.8% as VIX has moved higher.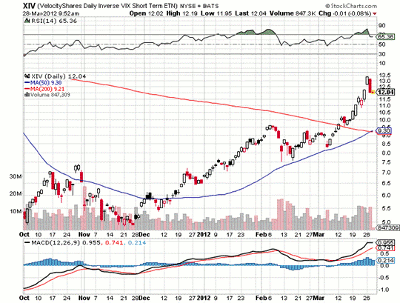 Click to Enlarge
The VelocityShares Daily 2X Short-Term ETN (TVIX) is up 18.6%. This ETN has been wild in recent days as the issuer continually changes its stance of whether or not to issue new shares or close the ETN to new investors. (See also: "TVIX: A Rock and a Hard Place.")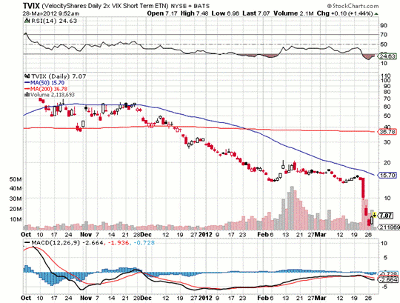 Click to Enlarge
Bottom Line
After a long descent to multi-year lows, VIX showed signs of life this week, and we saw the return to volatility as investors responded to gloomy economic news. Whether this newfound upswing is sustainable or not will help determine the future direction of major US indexes.
By John Nyaradi of Wall Street Sector Selector