As Crops Rise, Trade 'Em with Options
07/19/2012 9:00 am EST
Focus: OPTIONS
Tyler Craig, contributor to Investorplace.com and blogger at TylersTrading.com, outlines an option trade that takes advantage of higher commodity prices.
With commodities like wheat and corn rocketing higher of late, agriculture-related stocks have quickly become leaders in what many would consider a rather lackluster market. With the ag space catching fire, it's not surprising that it's outdistanced itself from the broader market, as shown in the comparison chart below.
While the S&P 500 Index (purple line) has meandered sideways over the past month, key ag stocks like Mosaic (MOS), Potash (POT), and Agrium (AGU) have all risen by double-digit percentages.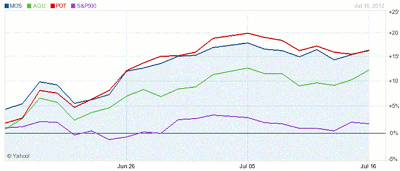 Click to Enlarge
Yet another ag-related company with a price chart that's growing like Topsy is Monsanto (MON). A brief survey of the chart reveals a bumper crop of bullish developments.
During Monday's trading session, MON was able to break above a key six-month resistance level, hinting at more upside to come.
The consolidation of the past six months has come in the form of a head and shoulders pattern, signaling a subtle shift in control from the bears to the bulls.
The recent uptrend that has taken hold since June has been accompanied by a number of high-volume accumulation days.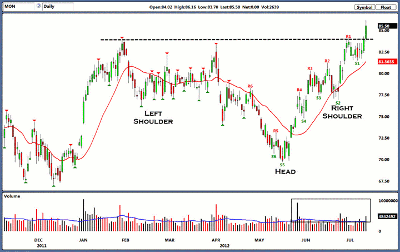 Click to Enlarge
To exploit a continued rise in Monsanto's price trend, traders might consider purchasing an Aug 82.50-87.50 call spread for $2.75 or better. The position consists of buying the Aug 82.50 call while selling the Aug 87.50 call.
The risk is limited to the initial debit paid, while the reward is capped at the spread between strikes ($5 in this case) minus the initial debit. Consider this a bet MON will rise to $87.50 by Aug expiration.
Tyler Craig is a contributor to Investorplace.com and can be found at TylersTrading.com.