Are Shorts Hedging Bets on This Stock?
08/02/2012 8:00 am EST
Focus: OPTIONS
Andrea Kramer of Schaeffer's Trading Floor Blog points out unusual option trading activity on one stock with heavy short interest.
It looks like options traders are gambling on a post-earnings pop for STEC (STEC), as evidenced by the growing affinity for short-term calls.
On the International Securities Exchange, Chicago Board Options Exchange, and NASDAQ OMX PHLX, the stock has racked up a ten-day call/put volume ratio of 1.13—in the 84th percentile of its annual range. In other words, option buyers are initiating bullish bets over bearish at a faster-than-usual clip.
Echoing that trend, STEC has already saw close to 6,000 calls change hands by mid-morning yesterday alone—about ten times its average intraday call activity, and more than three times the number of STEC puts exchanged.
Digging deeper, it appears speculators are establishing new positions at the August and September 10 calls, which have seen roughly 3,200 and 1,000 contracts traded, respectively. With volume outstripping open interest at both strikes, and considering most of the calls traded at the ask price, it seems the investors are buying the calls to open. By doing so, the traders need STEC to surmount the $10 level within the options' respective lifetime.
However, it's worth noting that short interest on the equity accounts for more than 23% of the stock's total available float. In fact, at STEC's average pace of trading, it would take more than 17 sessions to repurchase all of these pessimistic positions. Against this backdrop, and considering today's preference for out-of-the-money calls, it's possible that short sellers are hedging their bearish bets with bullish options.
Whatever the motive, the call buyers are paying a relatively pretty penny for the contracts. Heading into next Tuesday's earnings release, demand for short-term options has increased. Now, the stock's Schaeffer's Volatility Index (SVI) stands at 75%, above more than two-thirds of all other readings of the past year, suggesting STEC's short-term options are relatively pricey at the moment.
At last check, STEC is hovering just south of $8. From a longer-term perspective, the security hasn't finished a week in double-digit territory since November 2011.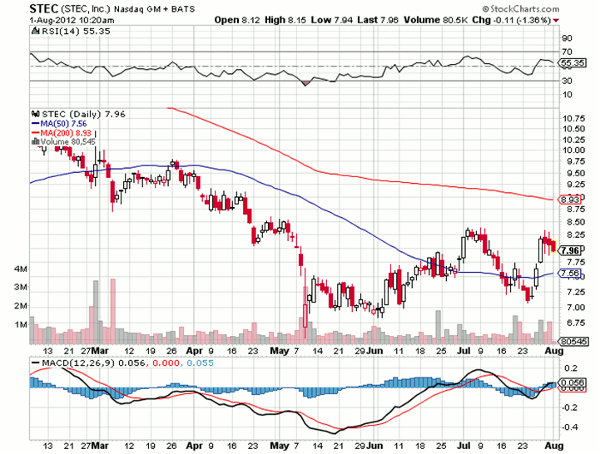 Click to Enlarge
Andrea Kramer can be found at Schaeffer's Trading Floor Blog.