Short-Term Profit for Long-Term Vol Sell-Off
01/28/2014 8:00 am EST
Focus: OPTIONS
Despite last week's market sell-off, Mark Sebastian of OptionPit.com thinks it's just a momentary blip and offers a trade idea based on this temporary condition.
Despite the pop in VIX, this seems to be a move that was both orderly and well organized. The market went backward VIX cash is way over the futures, but VIX did not "explode" out of the gates on this one. It simply crept higher with the market selling off all day Friday. It seems to me that this is starting to look like a short-lived event, additionally, it is not spooking people the way US-based scares spook people. Take a look at this chart of SPX and SPX IV from LivevolX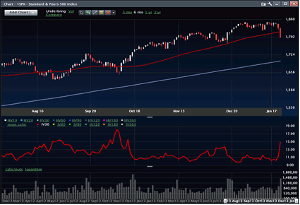 Livevol® www.livevol.com
Click to Enlarge
Notice the VIX was higher in October when we had the potential fake US default than it is Friday. Yet at no time during that period did the market move 2%. Take a look at the two different time periods.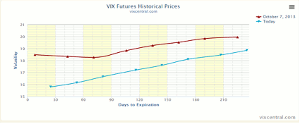 www.vixcentral.com
Click to Enlarge
To me, the VIX seems to be reacting not forecasting volatility. This is typically more the case when sell-offs are shortly lived, and when the market is somewhat hedged. Yes a four-point move is big, but in the context of a 2% sell-off, the VIX being less than 18 implies the market is not buying this as a long-term crisis and is expecting some resolution soon.
The Trade
We like short time spreads as a potential way to take advantage of the move we are seeing in the market and to take advantage of what is likely a long-term sell-off of vol. The Feb-Mar is a nice looking spread.
By Mark Sebastian, Blogger and Contributor, OptionPit.com