Disney Got Crushed Thursday, Now What?
08/21/2015 8:00 am EST
Focus: OPTIONS
Greg Harmon, of Dragonfly Capital, outlines how long-term traders may take advantage of a pronounced sell-off like this by implementing a stock repair strategy, which is one where a trader adds an options combination to the stock to potentially ramp up returns as the stock recovers.
Bernstein Research joined the bevy of downgrades to the media space, dropping one on Walt Disney (DIS) Thursday from Outperform to Market Perform. That makes three downgrades this month for Disney. Is it time to sell the stock? Maybe. But that depends on your time frame. If you are a momentum trader then you may get a better opportunity lower or in a couple weeks.
But if you are at the other end of the spectrum then you have some work to do. For a long-term holder, a pronounced sell-off like this is an opportunity to implement a stock repair strategy. The downgrades have brought Disney down to about $101.
And if you have owned it since the bottom in 2011 at 30, it is unlikely you will be parting with it at this price. So what can you do? The stock repair strategy is one where you add an options combination to the stock to ramp up your return as the stock recovers.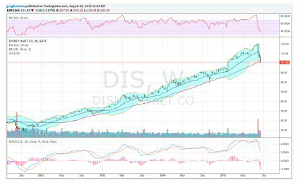 Click to Enlarge
The specifics are to buy a call spread and sell a covered call so that the call spread appreciates with the stock up to the covered call strike. For Disney, you want to give it enough time to recover so for clients Thursday I bought an October 105/110 call spread for $1.40. If the stock recovers to 110 by October expiry that would be a $9 return in the stock and a $3.60 gain in the call spread or a total of 12.6% return in the position.
But that still leaves the covered call to sell. Here you have two choices. You can go with a short expiry and sell the August 28 expiry 102 calls for $1.43. Or you can go with a longer expiry and sell the January 115 calls for $1.85.
The short trade allows you to sell covered calls again, but also opens you to the potential need to adjust if the price moves up quickly next week. The longer trade gives more time and more upside without the need to manage frequently. The key is that the covered call pays for the call spread at least. This way there is no cost to leverage the upside.
I sold the January 115 call for $1.85. This brought the net cash outlay for the options combination to a 45 cent credit. So, if the stock were to move to 110 by October expiry, now the gain would be 15.45% and there would still be upside room to 115 until January.
By Greg Harmon of Dragonfly Capital