VIX Action Different from Last Pop
12/04/2015 8:00 am EST
Focus: OPTIONS
Option trader Mark Sebastian, of OptionPit.com, takes a technical look how the VIX had a huge rally on Wednesday and contrasts this to the sell-off the market had in November. Mark thinks it's important to watch implied volatility and offers what he thinks could work over the next few days.
In mid November the market had a miniscule sell-off. However, the VIX had a huge rally moving from in the 15s all the way to over 20.50. On a sell-off similar to Wednesday, VIX moved from 16 to well over 18.5%. This time, with a nice 23 point sell-off, the VIX was only up 1.35% and could not hold above 16% Wednesday. Notice the differences in how hard vol moved on somewhat similar moves.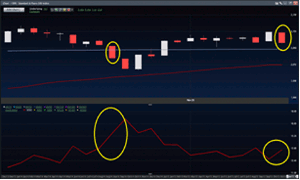 LivevolX for Lightspeed
Click to Enlarge
For some reason VIX reaction to Wednesday's move was far more muted Wednesday. It could have been a liquidity issue, it also could be simply the market thinking.
The Lesson: Watch IV movement, it can be telling. In this case, the market feels like Wednesday's move is a one-off.
The Trade: Like long market long vol, as I think both could work over the next few days.
By Mark Sebastian, Blogger and Contributor, OptionPit.com