The Road to a Great Dividend Stock
08/24/2012 11:15 am EST
Focus: STOCKS
This company is a bonafide growth story and currently has an 8% yield to boot, writes Greg Pugh of Investing for Monthly Income.
Founded in 1997, Student Transportation (STB) is North America's third-largest and fastest-growing provider of school bus transportation services, operating more than 8,500 vehicles. STI's family of local companies delivers safe, reliable, and cost-effective transportation solutions to school districts throughout the US and Canada.
Student Transportation usually purchases a new fleet and then splits the fuel costs with the customer. With the uncertainty of market diesel prices, it is more cost-efficient to operate an LPG or CNG vehicle than a diesel vehicle. Student has additional LPG vehicles scheduled to be deployed for the upcoming school year, which means further fuel savings for customers.
Student Transportation is committed to helping schools everywhere have safe, economical, and environmentally responsible transportation for their students. Their success with alternative fuel fleets in Minnesota and California has prompted more customers to make the switch to outsourcing student transportation.
Student Transportation has won six new bid contracts for 2013: two in Ontario, two in Connecticut, and two in New Hampshire, as announced towards the end of March. It also secured another eight contracts in Texas and Washington that National Express was required to divest by the US Department of Justice in connection with its purchase of Petermann Partners.
The additional revenues and cash flows from the six acquisitions closed and integrated in the first half of the fiscal year, and the new bid contracts won for fiscal 2012—along with the recovery of approximately $1.2 million in continued revenue deferrals at the end of the third quarter—should continue the positive momentum through the end of the fourth quarter of fiscal 2012.
Here is a recent daily chart: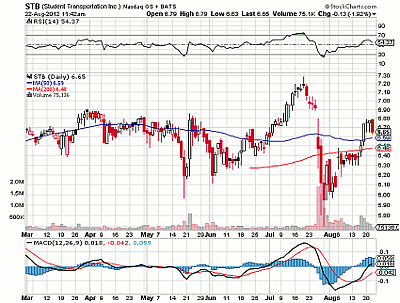 Click to Enlarge
Third-quarter revenue increased $22.3 million, to $113.3 million from $91 million, and EBITDA improved $6.1 million to $25.5 million, from $19.4 million for the comparable period last year. Net income for the third quarter of fiscal year 2012 increased to $3 million (5 cents per common share) compared to net income of $1.6 million or 3 cents per common share for the third quarter of fiscal year 2011.
Student Transportation has continued its practice of approving the announcement of dividends quarterly. Dividends will continue to be paid on a monthly basis to shareholders of record.
Today, investors are looking at an investment in Student Transportation that pays 55 cents annually in monthly distributions. This produces an 8.3% yield at the market price. Student Transportation will pay a regular monthly cash dividend on October 15, November 15, and December 17 to shareholders of record at the close of business on September 28, October 31, and November 30.
Student Transportation CEO Denis Gallagher has stated that he's satisfied with the dividend payment and wants to focus on driving investor value. His goal is to see the yield drop in the 5%-plus range through share-price appreciation. This calculates to a target price of $11, which is 66% higher than the current price of $6.63.
Subscribe to Investing for Monthly Income here...