Looking at Oil Long to Short Term
05/24/2010 10:55 am EST
Focus: COMMODITIES
The global oil price got slaughtered this past week, taking oil stocks down with it. Is this a buying opportunity?
Only history will tell us, but I would suggest now that the stock charts of many oil producers have pierced their long-term, 200-day moving averages, they will take weeks or months to "recycle" and base again for a move up later this year.
There will be a rally this week, but the likelihood of them bouncing back up through their short-term moving averages and staying there are slim. The daily, weekly, and monthly charts for oil are all negative now. (Natural gas charts, however, are in much better shape.)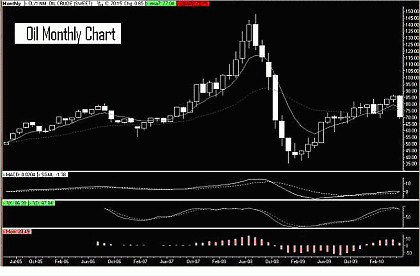 Click to Enlarge
So I'm now compiling my list of favorite junior and intermediate oil stocks—both the ones I already own and some of the good growth stories I missed—and charting the buy points to look for over the coming weeks and months.
I'll be telling my subscribers exactly where I have my bids in, what prices I'll be looking for through the spring and summer.
I use several technical indicators, moving averages, and Fibonacci levels.
I'm not sure how much more downsidethese junior and intermediate oil stocks have, but they may trend sideways for several weeks, allowing the long-term moving averages to catch up (and I guess I'm lucky that many of the long-term averages on the Oil and Gas Investment Bulletin portfolio stocks have a long way to catch up).
So that's why I'll be preaching patience—until, of course, the facts change.

Click to Enlarge
The fundamentals are still in place for a good oil market; global demand has not slackened. Truly, if the southern Mediterranean countries now in economic turmoil reduced oil consumption by 10%, how much does that affect the big picture? It's a drop in the barrel.
Personally, I see very little downside on oil, but I have no ego in my opinion. I will let the charts on oil and the individual stocks tell me how to trade.
So I think this next few weeks will be a great time to be accumulating both oil stocks and the odd, well-situated natural gas stock.
Sow the seeds of profit over the summer and prepare for the fall harvest!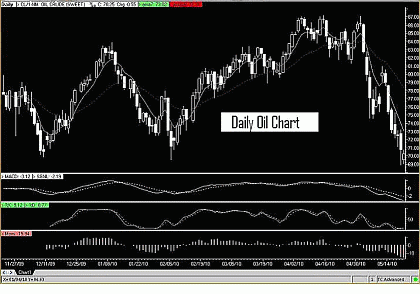 Click to Enlarge
By Keith Schaefer of Oil and Gas Investment Bulletin