4 Undervalued Clean Energy Stocks
05/10/2011 6:00 am EST
Focus: STOCKS
These four picks connected to the alternative-energy market have low price/earnings growth ratios and high cash flows, and are perfect places to start looking in this sector.
If you are looking to gain exposure to alternative sources of energy, this may be an interesting starting point for your own analysis.
To construct this list, we began with over 70 stocks with exposure to the clean energy sector. We then focused on those names undervalued by the price/earnings growth (PEG) ratio, in other words a PEG of less than 1.
Lastly, we found the levered free cash flow for these companies and kept those that had high levels of levered free cash flow as a percentage of market cap. (Note: Levered free cash flow is the free cash flow available to the company after paying interest on outstanding debt. It is a measure of the cash flow that is truly available to the company.)
ReneSola Ltd. (SOL) is in the solar industry. It has a market cap of $715.64 million and a PEG of 0.28.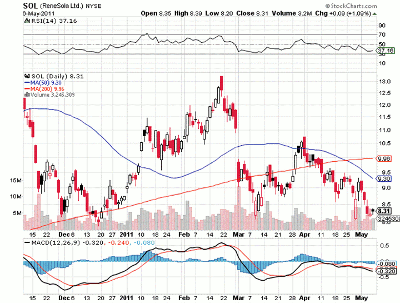 Click to Enlarge
The stock is currently stuck in a downtrend, trading 9.9% below its SMA20, 12.39% below its SMA50, and 17.01% below its SMA200. It's been a rough couple of days for the stock, losing 6.89% over the last week.
Power-One, Inc. (PWER) is in the diversified electronics industry, and has a market cap of $833.55 million and a PEG of 0.34.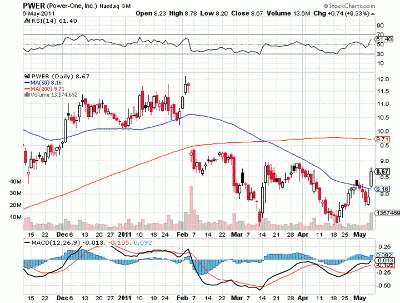 Click to Enlarge
This is a risky stock that is significantly more volatile than the overall market (beta = 2.19). The stock is a short squeeze candidate, with a short float at 33.37% (equivalent to 7.07 days of average volume). The stock has lost 2.02% over the last year, but as you can see from the chart above, it had a nice break above its 50-day moving average last week.
GT Solar International, Inc. (SOLR) is in the solar industry with a market cap of $1.31 billion and a PEG at 0.69.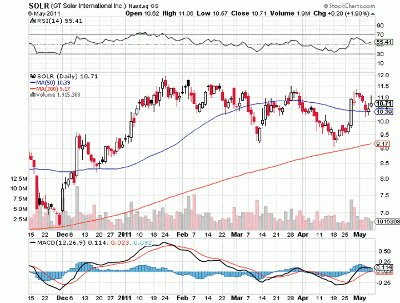 Click to Enlarge
The stock has gained 90.36% over the last year.
NRG Energy, Inc. (NRG) is in theelectric utilities industry, with a market cap of $5.89 billion and a PEG of 0.58.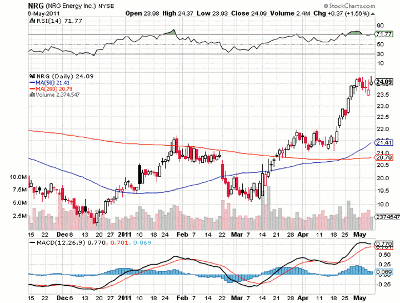 Click to Enlarge
This stock is exhibiting strong upside momentum and is currently trading about 7% above its 20-day simple moving average. It is also well above its 50- and 200-day moving averages, as you can see in the chart above. Overall, the stock has had a good month, gaining 11.37%.
Find more trading ideas like these at Kapitall.com.
By the Staff at Kapitall.com