Major Indexes on "Collision Course"
06/27/2011 11:55 am EST
Focus: STOCKS
Critical moving averages for all three US stock indexes are on a collision course with price, meaning major moves—higher or lower—could be ahead. Here are the possible scenarios and how to trade them.
Well this is certainty a very interesting predicament: The daily charts for the three major US equity indexes are all showing exponential moving average (EMA) compression.
Short-term daily moving averages are falling as long-term averages are rising, and price is distinctly trapped between these averages, which are on a collision course with each other, meaning price will soon be squeezed one way or the other.
It's a unique situation we should be watching, so let's start with the S&P 500 Index: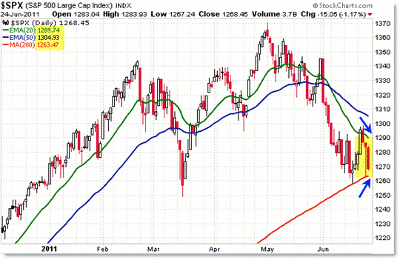 Click to Enlarge
Cutting right to the chase, we're viewing the 20- and 50-day exponential moving averages (green and blue) along with the all-important 200-day simple moving average (SMA) (red). These colors (and averages) remain consistent on all charts I view.
What's happening now is not just that the shorter-term EMAs are barreling to the downside, but the longer-term, 200-day SMA is similarly careening to the upside.
Like a deer in the headlights, price is trapped between these important averages as they speed on a collision course towards each other.
For the S&P 500, watch the falling 20-day EMA at 1,290 (and of course the round number 1,300 beyond that) and the rising 200-day SMA at 1,265 (and of course 1,250 under it).
We'll soon get a breakout, but until then, watch for more (frustrating) range action between these two levels.
NEXT: See Similar Patterns on Nasdaq and Dow Charts
|pagebreak|
Here is the similar situation in the Nasdaq Composite: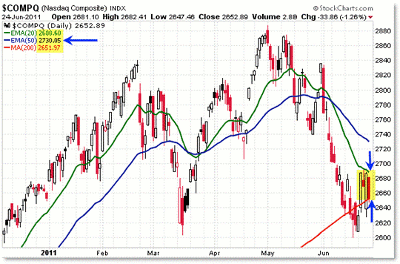 Click to Enlarge
The main levels to watch are 2,690 (20-day EMA) and 2,700 (round number) for resistance (and a bullish breakthrough should that happen) along with 2,650 (200-day SMA) and 2,600 (2011 low).
Any breakthrough of these levels is likely to be significant and produce a continuation impulse in that direction. Otherwise, expect further "bouncy" action between these levels.
Finally, the Dow Industrials continues to be the relative strength leader, but it's still in a similar situation: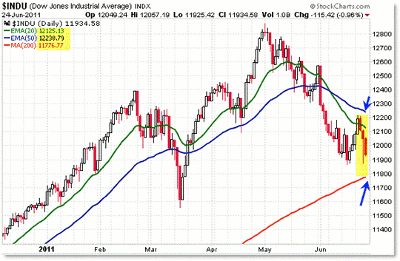 Click to Enlarge
The Dow Jones is facing 12,200 as overhead EMA and price resistance along with 11,900 as price support with 11,800 as 200-day SMA support. For reference, the 2011 low is 11,600.
There are two ways to expect future action, depending on what happens:
As long as price remains between these compressing levels, play "fade" or short-term intraday bounces between these levels (equilibrium play).
When (not if) price breaks firmly (and closely) beyond the upper resistance EMAs or lower support SMAs, expect (and prepare to play) a potential breakout/impulsive/continuation move (intraday or swing) in the direction of the break.
Be sure to incorporate these "bigger picture" price (and EMA) purism concepts into the other forms of analysis you do this week.
By Corey Rosenbloom, trader and blogger, AfraidToTrade.com