2 Stocks with Tradable Chart Patterns
07/19/2011 9:00 am EST
Focus: STOCKS
Though risk is prevalent in the markets, some selective buying opportunities are being presented. Here are two stocks that have maintained bullish chart patterns and are trading near all-time highs.
Now that the indexes have pulled back to their 20-day moving averages and the McClellan Oscillator has started to dip near -100, I've started to get more interested in long swing plays again.
While its not a given that the market will head higher from here—in fact, it could easily pull back some more—there are still plenty of stocks that are worthy of consideration. Below are two I'm watching that not only have decent daily charts, but are also close to all-time highs.
Riverbed Technology, Inc. (RVBD): RVBD is one of the stocks I am watching, and one of the key reasons is because of a failed breakdown. RVBD had been consolidating in what appeared to be a head-and-shoulders top over the past several months.
The neckline was at approximately the $32 area, and RVBD threatened to break under that level on a few occasions. However, RVBD found buyers and cleared the right shoulder late in June. This invalidated the pattern, and RVBD has been holding above that level since then. Any strength from here could easily lead to new all-time highs.

Click to Enlarge
Panera Bread Company (PNRA): PNRA is another stock I'm watching that is close to all-time highs. In fact, it hit its all-time high last week and has mostly shrugged off the recent market weakness.
It's also in what has been a hot sector, with several specialty restaurant stocks trading very strongly. PNRA cleared its base a couple weeks ago and has settled into a tight consolidation. There should be pretty good support near $125 on any weakness, and of course, any strength would carry it to new all-time highs.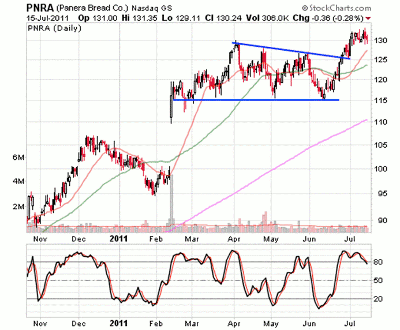 Click to Enlarge
The market is still vulnerable, and now is not the time to load the boat. However, several stocks are in decent positions, and if you can manage your risk, they may be worth considering.
By Joey Fundora of DowntownTrader.com