Networking Company Eyes New Breakout
12/06/2011 9:31 am EST
Focus: STOCKS
After an earnings-inspired rally, Procera Networks (PKT) is close to testing long-term resistance. Watch for price and volume signals and be ready to buy in advance of a new run higher.
On November 8, shares of Procera Networks Inc. (PKT) spiked thanks to a fantastic quarterly report the day before.
Revenue surged 158%, to $12.2 million, and bookings were up 360%, to $21 million. While the company gained several new customers, the top line also grew thanks to increasing orders from current clients.
Non-GAAP net income came in at $2.5 million, up from a $382,000 loss a year ago. Earnings worked out to $0.14 per share, convincingly ahead of the four-cent loss analysts were expecting.
The stock currently trades at $16.58, and volume has been strong. The stock exploded on massive volume off the November 8 earnings report and had a gentle, light-volume pullback to the 20-day moving average, which was very orderly and bullish. You always want to see light-volume pullbacks after an upward volume surge. It takes out weak hands and strengthens the overall pattern.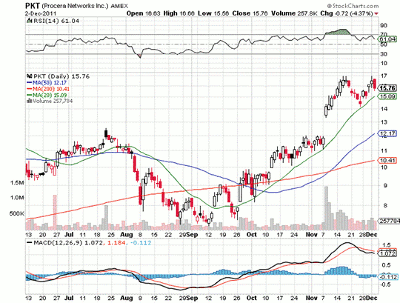 Click to Enlarge
The Company
Procera provides network traffic awareness, analysis, and control solutions for broadband service providers. It offers intelligent policy-enforcement solutions that enable mobile and broadband network operators and entities to manage private networks.
The company offers its products under the PacketLogic brand name. Its network operator customers include mobile service providers, broadband service providers, cable multiple system operators, Internet service providers, educational institutions, enterprises, and government agencies. The company sells its products through its direct sales force, resellers, distributors, and system integrators in the Americas, the Asia-Pacific region, and Europe.
The Trade
The stock is now running into resistance not seen since August 2008. That level is about a buck higher from here. In the meantime, watch the $16.95 level, as that would be a short-term breakout spot for the stock.
If PKT can break through these levels on impressive volume, then I would look for a target on the stock to be somewhere around the $21-$24 level.
By Joe Donohue of Upside Trader