One Surefire Super Bowl Winner
01/18/2012 9:40 am EST
Focus: STOCKS
Even though the matchup is still far from certain, Frank Zorilla cites technical and fundamental catalysts likely to propel shares of restaurant chain Buffalo Wild Wings (BWLD) to further gains this season.
As Super Bowl Sunday draws closer, it led me to look at some stocks that normally benefit from the world's most widely watched football game. You have the pizza stocks, the sporting store stocks, the retailers like Best Buy (BBY), and you have Buffalo Wild Wings (BWLD).
Buffalo Wild Wings is a sports bar and grill operator with 803 locations in 45 states. The company has managed to deliver double-digit sales growth every quarter for the last four years. Their sales change last quarter was +31% and their three-year EPS growth rate is 25%.
Bullish Chart
The stock is working on an eight-month cup-and-handle formation. As matter of fact, it is forming its handle now and is providing a "cheat" buy area as it pulls back to its 50-day moving average (MA) on relatively low volume.
A total of 13% of the stock's float is short, so it would take four days to cover, and the stock is trading only about 7% off its 52-week high, so it is safe to assume that many of the shorts are underwater.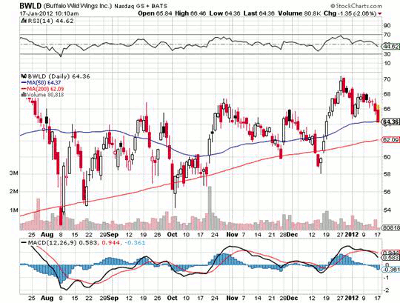 Click to Enlarge
Volume has picked up a bit in the past few days and has now touched the 50-day moving average. The 200-day MA is just below that. Assuming one of those averages will act as support, one could buy near the 50-day moving average (aggressive) or wait to see if it blows through the 50-day and bounces off the 200-day moving average.
The first target is the 52-week high at $71.47, and the second possible target could be $77.
By Frank Zorilla of ZorTrades.com
Frank Zorilla will also be speaking at the upcoming New York Traders Expo