Low-Risk Stock Rises in Down Markets
03/08/2012 9:00 am EST
Focus: STOCKS
Steady low-price retailer Family Dollar Stores (FDO) continues to move higher despite the broad market decline, and with solid support below, it represents a low-risk long idea for the weeks ahead.
Shares of Family Dollar Stores, Inc. (FDO) gained ground this week, while the broad stock market took losses.
Family Dollar is one of those stocks that tend to hold their own even while the major indexes are retreating. Note that near the close on Tuesday, FDO was up about $0.29 at $55.20 while the Dow was off almost 200 points.
Family Dollar operates general merchandise retail discount stores. Its products are categorized under consumables, home products, apparel and accessories, and seasonal and electronic products.
A bullish position in FDO with a stop just below $53.00 should offer a low-risk bet that the market will not continue lower for much longer, as those who missed the original rally will soon begin to jump in.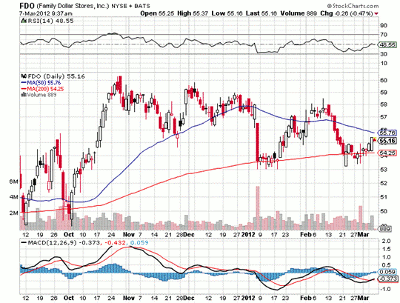 Click to Enlarge
Where else would they go but to a stock that has been rising in a down market? And if there is further downside ahead, FDO has a solid support level at $53.00.
FDO should reach $58.00 per share in coming weeks.
By Frank Kollar of FibTimer.com
The Fibtimer.com Stock Timing Strategy does not have a position in Family Dollar Stores.