3 Factors That Determine My Every Trade
02/24/2015 7:00 am EST
Focus: TRADING
Steve Spencer of SMB Capital explains the three factors that inspire his trade ideas, citing a recent short trade in Urban Outfitters (URBN) to illustrate the lesser-known power of the first factor: tape reading.
I make trading decisions based on three factors: 1) Tape (order flow); 2) Technicals (trend, support, resistance); and 3) Catalysts (news).
The least-understood of the three is the tape. It is a skill that takes thousands of screen hours to develop. But once developed, it is a skill that enhances the risk/reward of your trades and often enables you trade larger size with a minimal increase in risk.
Recently, I was trading Urban Outfitters, Inc. (URBN), which had released earnings. The initial reaction to the news was negative, as you can see from the two-day chart below. I was interested in looking at a short trade around $28.50 with confirmation below $28 for a move down to $27.50. (The $28.20 level is highlighted as well for a reason given in the next paragraph).

Click to Enlarge
The market opened and URBN was bouncing around for the first ten minutes. The range started to tighten between $28.10 and $28.20. A seller at $28.20 could clearly be seen on the offer, absorbing dozens of buy orders.
I established a short and added to my position when the $28.10 bid dropped, breaking the tight range. I continued to trade it on the short side for the next 30 minutes with my ultimate stop above $28.20.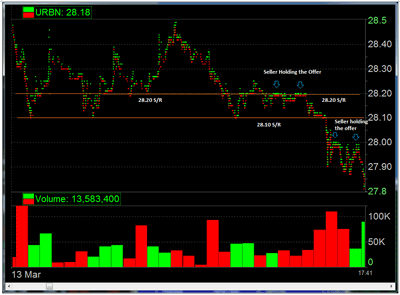 Click to Enlarge
I was looking at URBN because it had fresh news and was reacting strongly to that news in the pre-market, but the decision to open a short position was based on the tape.
It's a good example of how I balance the three core items I watch each day.
By Steve Spencer, active trader and co-founder, SMB Capital
By clicking submit, you agree to our privacy policy & terms of service.
---
Related Articles on TRADING