An All-American Stock is Breaking Out
07/04/2012 9:00 am EST
Focus: STOCKS
Greg Harmon of Dragonfly Capital highlights one stock that sells products in the USA that are as common as Grandma's apple pie on the Fourth of July.
What is a more American way to celebrate our country's birth than...by buying some wallboard! Yes, I have heard the stories about cookouts, parades, and fireworks. Those are nice, and give you some short term pleasure. But this country was built on building something.
Think about what would make you happier. A burger, or a new wall in the basement? Watching the fire trucks roll down the street, or a doghouse? Lying back and seeing the fireworks light up the sky, or a new shed? You know the answer.
Well, you can still participate. The stock of one of the major producers and distributors of wallboard (also known as drywall), USG Corp. (USG), is breaking out. Maybe you can buy the stock and still do all those other things. Awesome. America! Take a look.

Click to Enlarge
USG is breaking an expanding wedge higher on the daily time frame as shown in the chart above. It has a strong and rising Relative Strength Index (RSI) and a Moving Average Convergence Divergence indicator (MACD) that is positive and growing. Both support a move higher.
The target on the breakout is a move to 26. But the weekly chart below shows this resistance goes back even further to February 2011.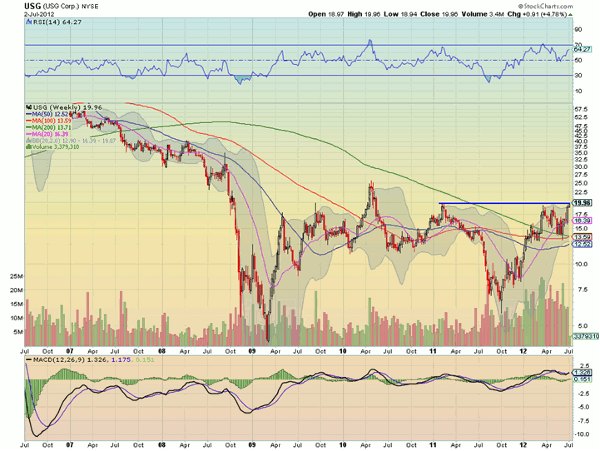 Click to Enlarge
This longer view reveals a cup-and-handle breakout with a target of 33.75.
So how are you going to celebrate America? How about by buying an American company that sells products that are in nearly every home in the USA!
Greg Harmon can be found at Dragonfly Capital.