A Sweet Crude Trade Setting Up
04/25/2013 7:00 am EST
Focus: COMMODITIES
All crude oil is not alike, and crude traders understand this but many others do not, says Greg Harmon of Dragonfly Capital.
The two major types, Brent North Sea crude and West Texas Intermediate crude, are the most important. And their relationship to each other is very important. For stock traders the ratio of the United States Brent Oil Fund (BNO) to the United States Oil Fund (USO) offers a way to follow the relationship. And looking at the daily chart, there is a trade opportunity building right now.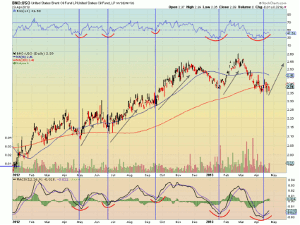 Click to Enlarge
There are three indicators that come together that make this ratio interesting. The relative strength index (RSI) has bottomed and is turning up. The moving average convergence divergence indicator (MACD) has also bottomed and is turning up on the signal line with a cross to trigger. And the price has bottomed. The previous four times, as noted above, that these have lined up , this has led to BNO outperforming USO. The average outperformance has been 11%. This represents a move back to the 2.61 ratio. Use 240 shares short of USO for every 100 shares long of BNO, to trade this move and a stop near a ratio of 2.33.
By Greg Harmon of Dragonfly Capital