6 Stocks with Breakout Potential
09/10/2013 7:00 am EST
Focus: STOCKS
The staff at Briefing.com puts together a list, which features names in their proprietary Focus List of the most liquid, high relative strength stocks in the market that are ideal for day and swing trading candidates.
Technically, the Dow, S&P, and Russell small caps have been battling their respective 50-day ma's as resistance, while the Nasdaq holds up along its August range highs.
Our Focus List is designed to seek out the strongest stocks from both a fundamental and technical standpoint, however, even during bear cycles or corrective phases, they can become very susceptible to corrections as well. Be especially careful with those names that have run significantly higher the last few weeks and are extended well above key moving averages. Also be cautious with those leaders breaking below their 50-day ma's and are struggling to recoup/bounce as they could be setting up for another leg lower.
Chart Analysis
Note the following charts are showing the weekly time-frame:
QCOM - Joins out Focus List as price stages a breakout above two-year range highs along the 66/67 area.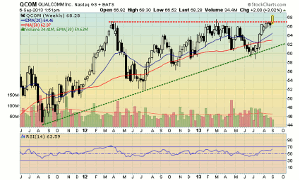 Click to Enlarge
CTSH - Choppy action over the last two years, this information technology service stock has been "on and off" our Focus List at times. Can it stay on it this time around? Keep watch along multi-month resistance around the 80/82 vicinity for a potential breakout into new high ground.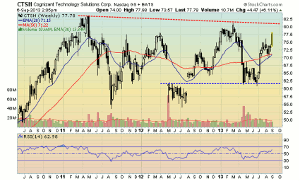 Click to Enlarge
LRCX - This semis/electronic equipment producer joins out Focus List. Price action shows it has been trending higher this year and finding support on pullbacks above its late-2011/2012 highs around the 45 vicinity. If the trend continues, the 2011 highs near 57 can be obtained.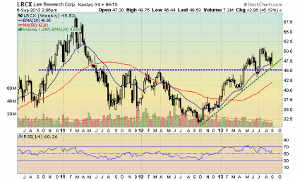 Click to Enlarge
REGN - A high-flying pharmaceutical name that's been carving out an ascending triangle pattern over the last couple of months. As long as the current uptrend remains intact, investors can anticipate a breakout into high ground over 280.

Click to Enlarge
UTHR - A newcomer to our Focus List, this pharmaceutical appears to be in the midst of a pullback in its strong multi-month uptrend. Note the 2011 highs acting as support.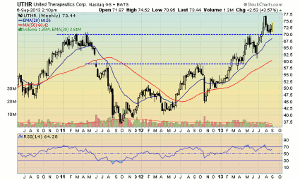 Click to Enlarge
YNDX - Ranked #4 this week, this internet software/services stock continues to show strong relative strength as it nears its IPO range/highs from 2011. As long as price can maintain its bigger picture bias above the 27/29 area, it carries the potential for a breakout into new high ground over $40.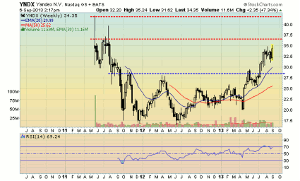 Click to Enlarge
Liquid Momentum is Briefing.com's proprietary Focus List for the 50 most liquid, high relative strength stocks in the market that are ideal for day and swing trading candidates.
By the Staff of Briefing.com