3 Oil Stocks Bubbling Up
11/13/2013 7:00 am EST
Focus: STOCKS
As financial media pundits debate the question of whether we're in a stock market bubble or not, technician Greg Harmon of Dragonfly Capital highlights three attractive set-ups in oil stocks.
So there is still a lot of talk about bubbles. I guess that means things are still going higher. Here is one kind of bubble I understand. A gas bubble. Not the kind you get from eating, say a plate of baked beans, but that from smaller oil and gas names that are looking ready to strike it rich. Because if it is going up it is a bubble right? Here are three to focus on: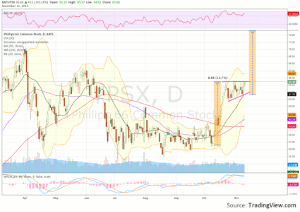 Click to Enlarge
Phillips 66 (PSX), has been consolidating in an ascending triangle since the move higher off of the summer lows ended on October 22. The target for a break of the triangle higher is a move to 68.25 but the broader view of the triangle as a flag also looks to 72.60 above that on a measured move. The RSI is bullish and strong supporting a move higher and the MACD is positive but currently flat. A break should add the MACD to the supportive column.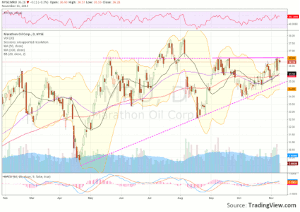 Click to Enlarge
Marathon Oil (MRO) is also approaching resistance from September, at 36.55 for this name. But if you look further back this level has been important since May with a brief pop over twice in late August and early September. Using the broader view gives a target of 43.60 on the ascending triangle break, but even the shorter period (just the solid lines) targets 40.60, if you don't believe in the pop over period counting. The RSI is supportive on this chart as well and the MACD is rising, a positive.

Click to Enlarge
Tesoro (TSO) is breaking the yellow consolidation box higher and peeking through the important green resistance zone higher. A continued move higher targets 56.15, and there is support to get there from the rising and bullish RSI and MACD perking up.
By Greg Harmon of Dragonfly Capital