Crude Oil on Its Way to Much Lower Prices? Impact S&P 500?
08/07/2015 7:00 am EST
Focus: FUTURES
Chris Kimble, of Kimble Charting Solutions, takes a technical look at Crude Oil, which is now testing lows established earlier this year, questions if a triple bottom is in play or a further breakdown is about to take place, and stresses why its next move is significant for the S&P 500.
Is Crude Oil on its way to much lower prices? A year ago Crude Oil started a bear market as it broke below multi-year support, taking it below a support line that has been in play for the past seven years.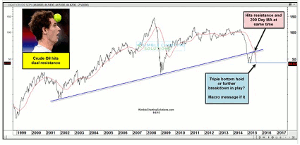 Click to Enlarge
After a 50% decline, a countertrend really took Crude to the underside of resistance and its 200-Day moving average (highlighted above), where it stopped on a dime. Since hitting resistance, Crude Oil has declined over 15% in the past month.
Now Crude is testing lows established earlier this year. Is a triple bottom in play or is a further breakdown about to take place?
If Crude doesn't hold at support, would it be sending a supply/demand message or is it suggesting something bigger is taking place on a macro basis?
Humbly, I am of the opinion, Crude Oil is one of the more important commodities on the planet and what it does from here would be suggesting something about the global economy, which could ripple into the stock market.
By Chris Kimble, Founder, Kimble Charting Solutions